Mesh Wi-Fi System Validation
With exponential increase of smart devices connecting to the internet, a single AP might no longer provide strong coverage for the entire house or office. Mesh Wi-Fi systems are launched specifically for better wireless coverage.
Inquiry
Could Mesh Wi-Fi System be a better solution?
With exponential increase of smart devices connecting to the internet, a single AP might no longer provide strong coverage for the entire house or office. Mesh Wi-Fi systems are launched specifically for better wireless coverage.

What is Mesh Wi-Fi System?
A Mesh Wi-Fi system comprises a main AP with a series of satellite APs placed throughout a place. Each node can connect to one another with the same SSID and together bring large and strong coverage without dead zones. It also allows users to enjoy stable and speedy Wi-Fi in crowded and spacious places.
The Comprehensive Testing Solution of Mesh Wi-Fi System
With years of experience in wireless technology validation, Allion Test Lab delivers a testing solution specifically designed to validate the six features of Mesh Wi-Fi system. We also offer tailored testing to enhance products' functionality and their applications from four perspectives, user-scenario tests, functionality tests, interoperability tests, and RF performance tests.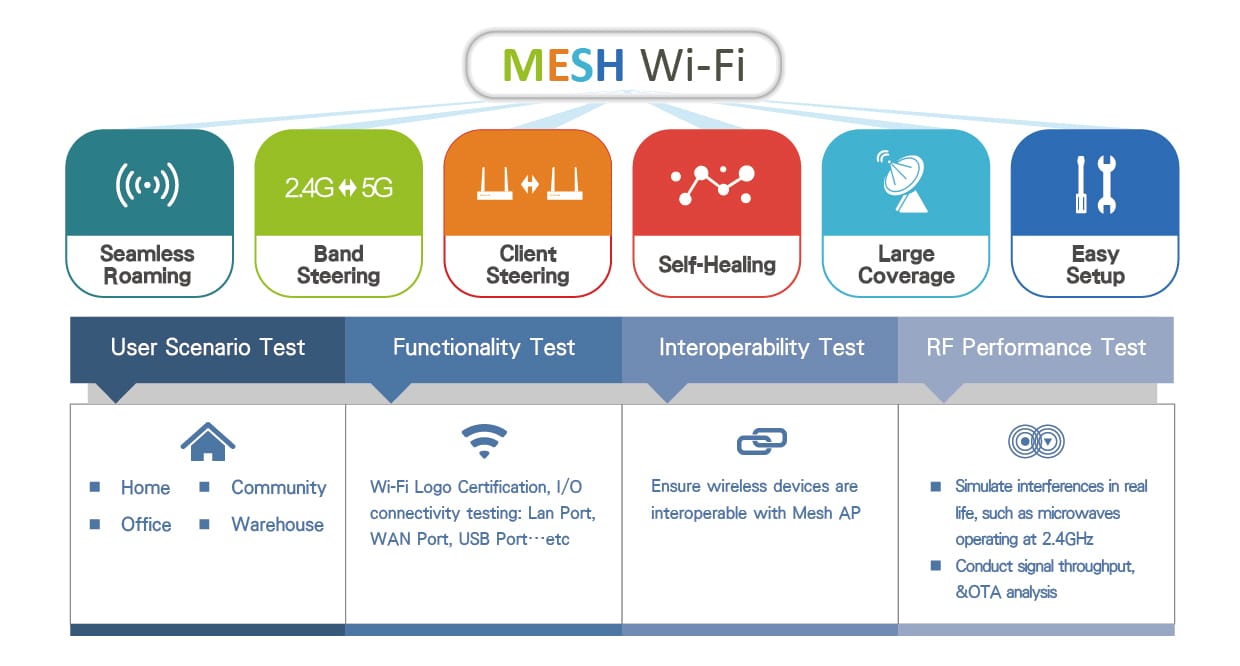 Newly- Launched AI Robotic Testing for Mesh Wi-Fi System
The new test methodology "AI Robotic Testing" can simulate user roaming scenarios for Mesh Wi-Fi by duplicating multi-tasks on devices with the same roaming route and consistent speed. Instead of operating manually, the AI Robotic Testing can accurately measure signal throughput and coverage in large and crowded space.

Dynamic Frequency Selection (DFS)
Today, most Mesh Wi-Fi systems support features like radar signal detection and Dynamic Frequency Selection (DFS). According to the International Telecommunication Union (ITU M.1652-1) and the US Federal Communication Commission (FCC) requirements, any AP that occupies the same band as the military or weather radar system should support DFS, which compels AP to change the operating band to avoid interference with radar signals.
Allion is able to simulate military or weather radars to test whether DFS of Mesh Wi-Fi AP system can function properly when encountering radars.

In-depth Competitive Analysis
Allion offers competitive analysis to evaluate your competitors' products. As an impartial third-party, our precise and reliable testing results not only help customers gain a better understanding of product features, learn the difference between you and your competitors, but also find the unique position in your target market.