The Internet of Things (IoT) and the innovation of technology have altered people's daily lifestyle. Today, when a person steps into a house, they are able to turn on the lights, air conditioning, or television by speaking a single word. However, increased applications of smart technology also create more complex issues.
In this article, we will argue that since the communications of devices have been extended from "one-to-one" to "one-to-many," product makers need whole new methodologies to validate the functionality, performance, and interoperability of their products. We will share the test results from the Smart Home & IoT Ecosystem Consultancy Service and explain the issues that were caused by cross-cloud communication, inconsistent user interfaces, and wireless signal interference.
IoT Technology and Public Safety  
In this day and age, people tend to utilize smart devices (or sensors) to monitor the condition of the environment or the status of the facility, enhancing public safety. For example, teachers can link different smart devices to make the school security system more dynamic. As the illustration below shows, the sensor will be triggered once the invader opens the smart window during the "Security On" mode. The sensor will then activate the smart alarm and camera, calling them to start ringing and recording. This will also send messages to the teachers' smart phones.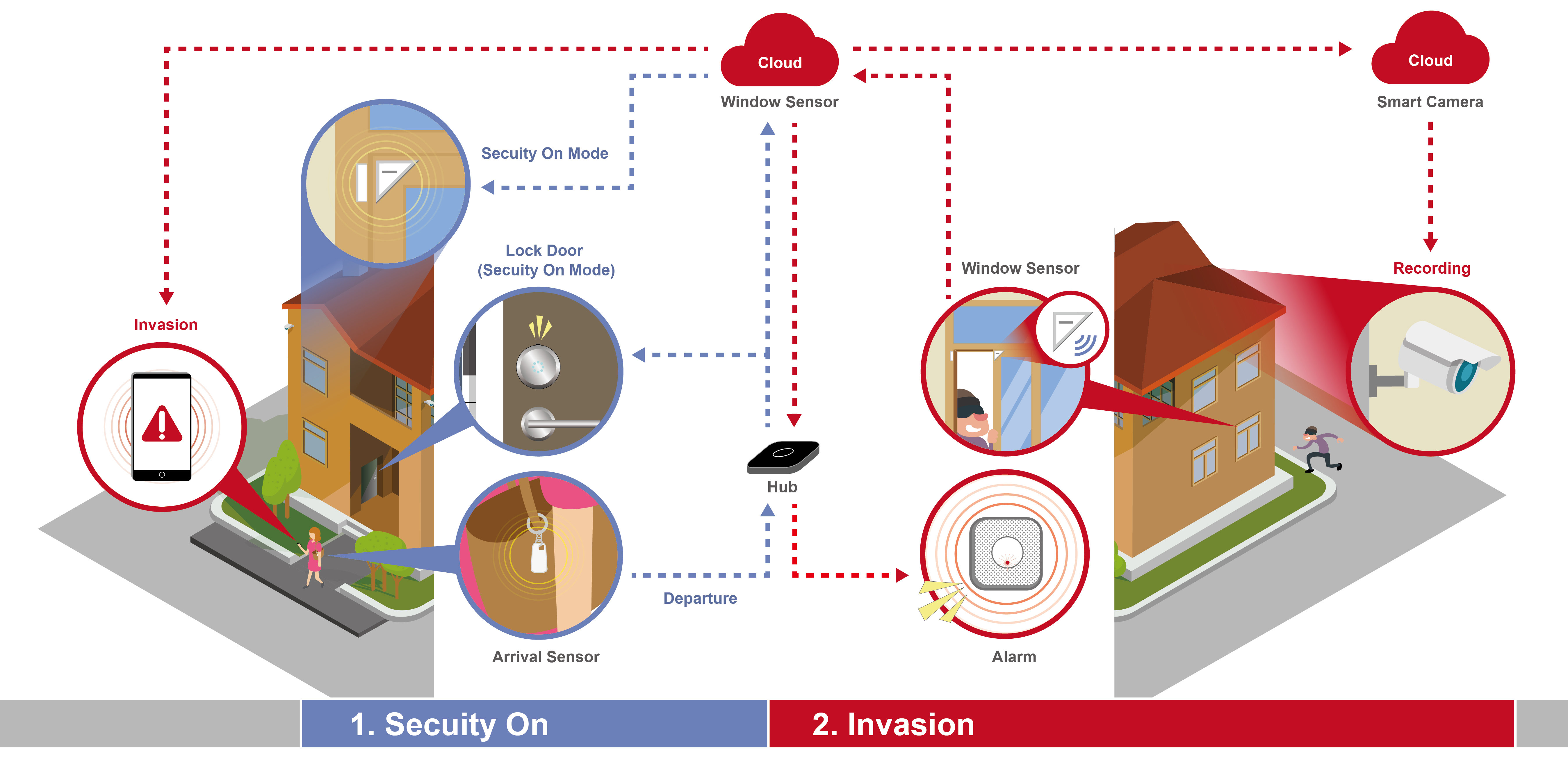 Unlike traditional security systems that merely allow users to passively maintain the safety of their properties, this dynamic system provides an instant response, enabling individuals to react immediately.
Smart technology is not just about security; it also links other living devices, such as smart light bulbs, smart doors and locks, and smart smoke detectors to the security system. In order to validate the reliability of these devices in real-world scenarios, we built "Smart Campus" at Allion IoT Innovation Center, designing several situation models.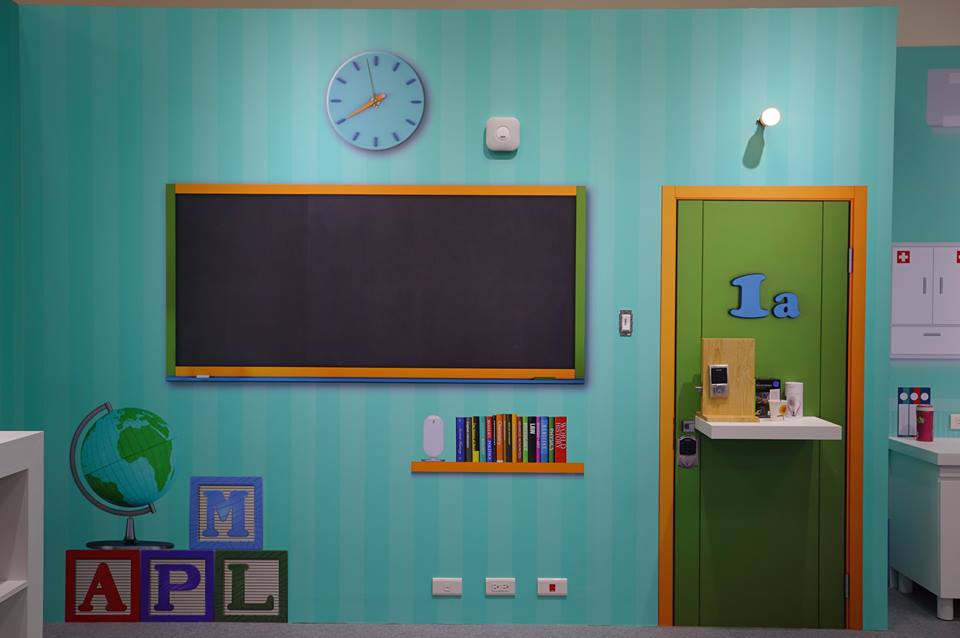 The Latencies between Cross-Cloud Communications  
In one of our situation models, "There's Smoke!" a smoke detector was connected with a smart light bulb and users' mobiles. This was done since when there is smoke in a classroom, the alarm should announce an evacuation order, and the light bulb should start flashing to show student where the exits are. Other faculties and students on campus should also be able to receive the evacuation message via their mobiles. The system is built to ensure that each individual will receive notifications once an emergency has occurred. The figure below shows the transmission path of the data package.

First, the smoke detector sends the data package, "There's Smoke" to "Cloud 1" via Wi-Fi. "Cloud 1" then sends an emergency message to the connected mobiles directly via Wi-Fi or 4G network; it also, at the same time, communicates with "Cloud 2," seeking to activate the smart light bulb. However, we found 10-40 seconds latencies during the communication between Cloud 1 and Cloud 2. This period of latency, could hold serious repercussions if applied to the real world and cause serious loss of life, bringing serious debate and concern to autonomous home security systems.
IoT Technology and Smart Living  
Aside from public safety, IoT technology smartens up people's own living spaces. Since the diversity of IoT products (i.e. different brands/types) and the distinctness of user behaviors can affect device functionality, performance, and interoperability, we also structure different kinds of family scenarios in the Allion IoT Innovation Center, including single, nuclear, and extended family. We aim to help our clients discover and resolve issues before they release products to the public.
Each scenario has its own test focus. For example, we built "House Scenario" to replicate an extended family living in a big house. In this kind of family, different members might adapt to different brands or types of smart devices. However, the various devices might use various systems, clouds, or be controlled by various hubs, causing interference to the signal and degradation of performance. Therefore, we designed several situation models in House Scenario to validate whether IoT devices can react, or be controlled, properly in a complex ecosystem.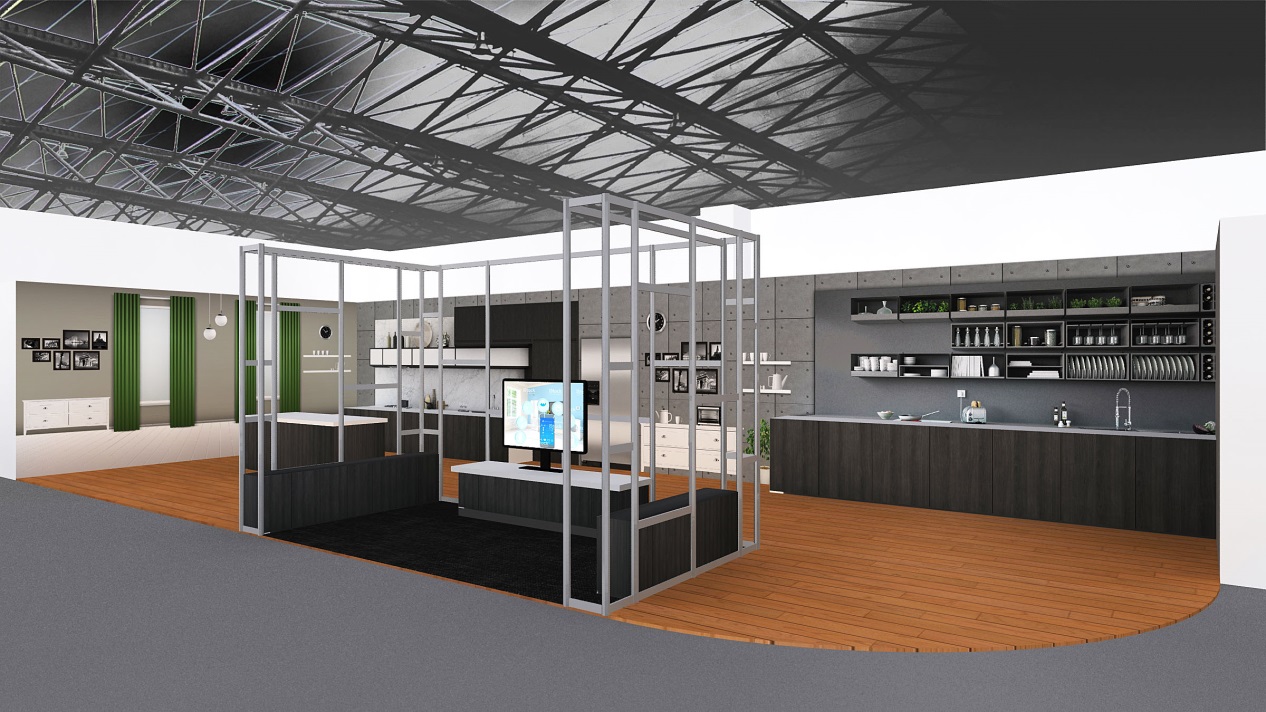 Inconsistent User Interfaces 
To enhance product interoperability, manufacturers often design multiple user interfaces (UI), allowing their products to support other operating systems (e.g. iOS, Android). Nevertheless, we found several bugs in a product's different UI, with those found having the possibility of decreasing user satisfaction.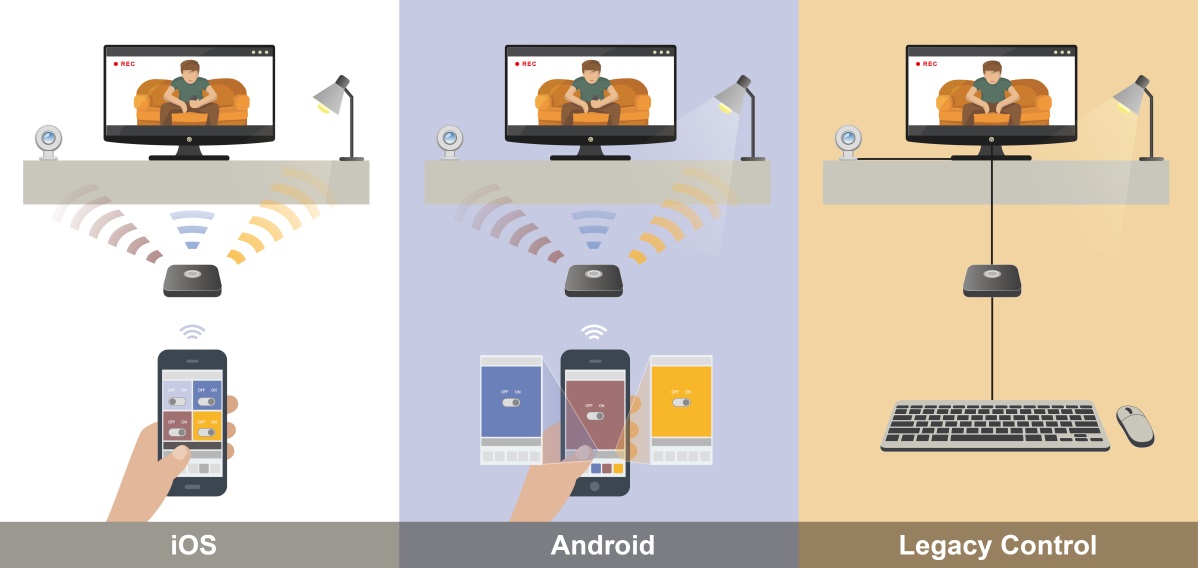 The illustration above shows three kinds of UI for a smart control hub. For iOS users, manufacturers design what is called an "integrated app," which allows them to control other devices by using only one app. Android users, on the other hand, need to download several apps to control different devices, complicating its manipulation. What is worse is that some of the settings can only be operated legacy control. This means users have to connect their keyboard and mouse to the smart control hub to fully activate all the functions. Although, in this case, the product supports different user interfaces. However, its inconsistency might still reduce user satisfaction.
 Wireless Signal Interference 
IoT technology has surpassed the application's wireless technology, constructing a more complex wireless ecosystem. However, co-channel and adjacent-channel interferences often occurred when these signals (e.g. Wi-Fi, Zigbee, and Thread, etc.) coexist under the same roof.
For example, one of our smart assistance had not been able to activate the air purifier via voice control. In the beginning, we thought it was, again, an issue caused by cross-cloud communication. Yet, we later found that it was the co-channel interference of wireless Aps by analyzing the wireless signal heat map report. The heat map report allows us to obtain an immediate visual summary for various wireless signals, perceiving Received Signal Strength Indicator (RSSI) to validate the connectivity and performance of smart devices.

As the figure shown above, on the right-hand side, it is due to the strong RSSI rate in the environment that the performance of smart assistance decreased. The issue was then solved after we changed the AP distribution, shown through the left-hand side figure.
Conclusion
In conclusion, we have shared the test results of the Smart Home & IoT Ecosystem Consultancy Service and discussed the issues that were caused by cross-cloud communication, inconsistent user interfaces, and wireless signal interference. We argue that, since smart technology is now used in all kinds of devices, IoT product makers need real-world scenarios and situation models to fully validate the functionality, performance, and interoperability of their products.
At the Allion IoT Innovation Center, we structured several situation models in the five user scenarios (i.e. single, family, and school lives), aiming to help our clients discover and resolve issues before they release products to the market. In the near future, Allion will develop more IoT product validation services, such as utilizing the wireless signal heat map and our RF test capability to guide homebuilders to allocate wireless network while designing homes.
Let us know or like our LinkedIn Page if you are interested in exploring our world-class testing service.