Allion Labs
Roku announced this January (2022) that according to the National Purchase Diary (NPD) weekly retail report, the Roku Operating System has become the best-selling operating system in the US for two consecutive years, despite being in the highly competitive smart TV market. According to the information available to the public, Roku OS has a market share of 38% within the US, while other operating systems such as Samsung Tizen, LG webOS, Amazon FireOS, and Google Android are far behind Roku TV. Similar to Google and Amazon OS, Roku is also expanding its market by authorizing its OS to other brands. Currently, well-known TV brands such as TCL, Sharp, Hisense, Philips, SANYO, Element, JVC, RCA, Magnavox, Westinghouse, and onn., use Roku OS. It is expected that other brands will join in one after another.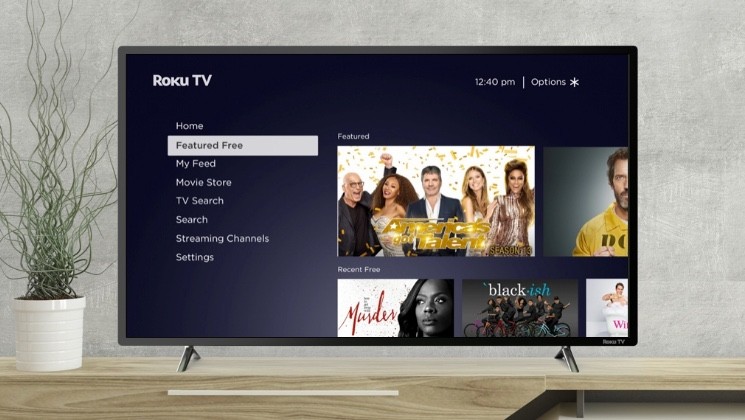 Figure 1: Roku TV (Source: Roku)
A Growing Ecosystem and Design With "Simplicity" at Its Core
Main Products
Apart from the smart TVs mentioned above, streaming media players used to be one of Roku's main products, which includes set-top boxes (STB), TV streaming sticks, and stream bars.

Figure 2: Roku Products
Features and Advantages
There are thousands of audio and video streaming media available on the Roku platform that allows users to set favorite channels on their homepage according to their preferences. With a simple and user-friendly interface, it's favored by the majority of its users, especially within the increasingly complex smart TV systems in the market today.

Figure 3: The basic interface of Roku TV (left) and a thoughtful design for TV streaming sticks which allows them to detect and set the resolution of the TV in use.
Roku TV Ready Certification
In order to create a better viewing experience for users, Roku launched the "Roku TV Ready" certification for audio products, which ensures the certified audio products can perform device identification, sound settings, HDMI-CEC/Volume Control, and more. Currently, many well-known brands created products that have acquired the Roku TV Ready certification,  including Bose, Denon, Element, JVC, Pheanoo, Philips, Polk Audio, Westinghouse, Hisense, TCL, Sound United, Definitive Technology, and Polk Audio.
Exclusive Technology
Roku's wireless audio transmission technology allows the soundbar to connect to any Roku TV via Wi-Fi. Other than having the advantage of a simple setup and no additional wiring, they claim to provide seamless audio and video synchronization with the TV. The soundbar can also automatically perform OTA software updates, ensuring the product remains up-to-date. Many users have said that usage is simpler than expected.
How to connect the Roku TV Wireless Soundbar to the TV (For Roku TV Only):
Plug in the AC plug and turn on the soundbar.
Press and hold the <HOME> button on the Roku remote for 5 seconds.
On the TV menu, select "Setup Devices", then select "Wireless Soundbar".
The TV and Soundbar will establish a connection.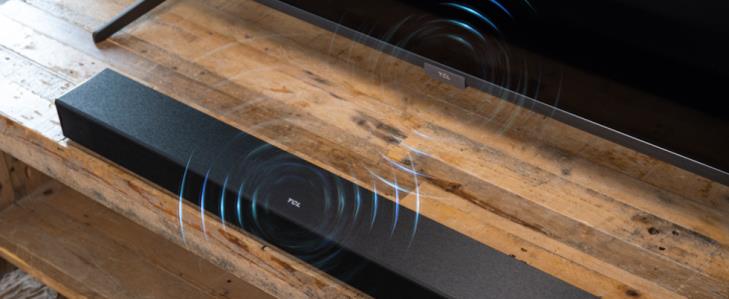 Figure 4: A TCL Roku TV Wireless Soundbar (Source: Amazon)
Hidden Problems Emerge as Market Share Increases
As mentioned previously, the design with simplicity as its core continues to be well received. After Roku TV and various Roku TV Ready products started flourishing, Roku reached the top of the US market. However, being tested by the market, problems have begun to emerge after actual use by consumers such as uneven quality between brands and compatibility problems.
Below are a few test results of Allion's evaluations of Roku TV with Roku TV Ready products:
When the TV has been turned off for a period of time and then turned back on, the soundbar which has been previously connected doesn't turn on automatically. Even if you switch the output settings, the soundbar doesn't wake up with the TV. You must use the soundbar's remote to turn it back on.
If streaming media is paused for a period of time or switched off, the soundbar will turn off by itself. Even if the soundbar is still displayed as connected and is still identified by the TV, the soundbar cannot be woken up after pressing play on the video.
After adjusting the TV's Digital Audio Out setting, the soundbar won't have any sound output.
After unplugging the HDMI cable, the volume of the soundbar will suddenly increase before returning to the original volume setting.
The Wi-Fi connection between the wireless soundbar and the TV will become unstable after a period of use.
Under certain operation sequences, the streaming interface of the Roku TV will freeze, unable to do anything.
Roku TV and Roku TV Ready certified products should theoretically be a perfect match, but from the examples above, serious problems can occur during simple situations. It's hard to imagine how many problems may occur in a more complex environment. In the event that Roku OS doesn't meet the user's expectations, there will be negative consequences to the brand image of Roku, related TV brands, and audio brands, forcing manufacturers to pay more attention to these issues.
Allion's Customized Testing Solutions Are the Answer To Your Products
Allion has more than 30 years of experience in TV testing technology. No matter which production stage your product is in, we can provide testing services and quality consultants. More importantly, we can point out and propose to you the most effective verification combination according to your product's characteristics and conditions.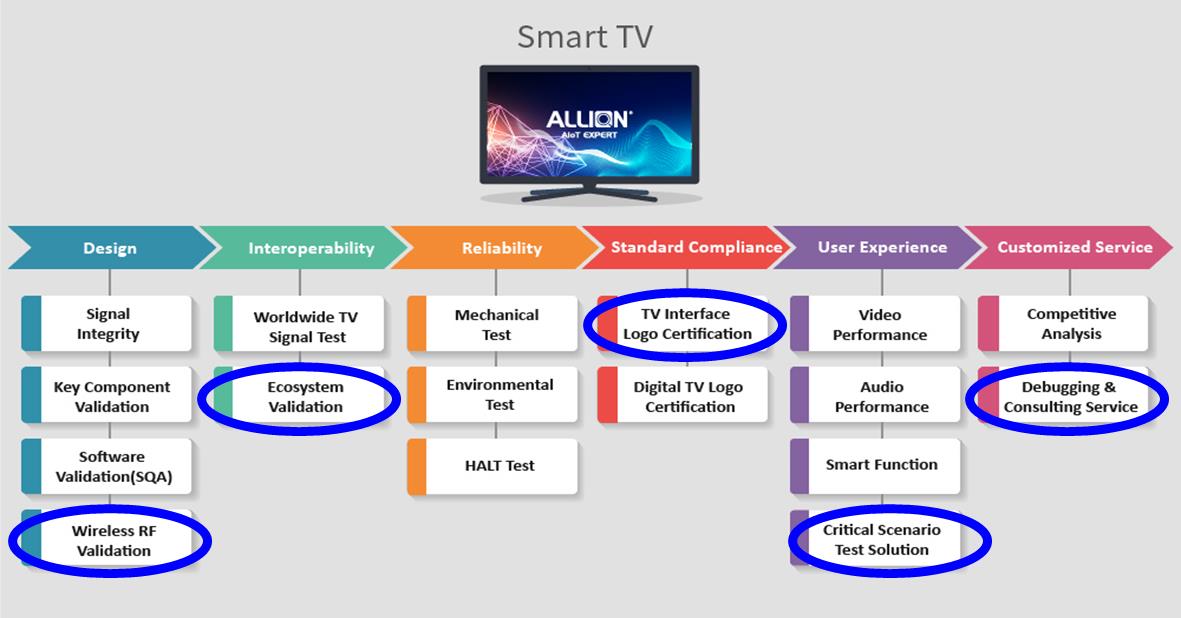 Figure 5: Allion Smart TV Services
Using the issues listed above as an example, starting from the product design phase, we would recommend that products undergo the following tests:
Wireless RF Validation – Test connectivity & interference
Interoperability – Conduct Ecosystem validation for soundbar/AVR and other related products
Standard Compliance – Check logo certification for TV interface (For example HDMI)
Critical Scenario Test Solution – Perform critical scenario stress tests for streaming, audio, and video equipment
Debugging & Consulting Service – Perform tests and adjustments related to the product's characteristics based on the Roku TV Ready certification

Figure 6: Allion Test Cases
In addition to professional evaluation and testing design, Allion continues to invest in TVs, audio-visual equipment, STBs, and game consoles from major brands on the market. Whether you're a manufacturer, OEM, private brand, or distributor of the products mentioned above, we can help customers identify potential compatibility, functionality, and UX-related issues through customized ecosystem testing solutions, allowing your products to stand out in the competitive market.
If you have any technical questions or needs, feel free to contact us by email or contact form.