In the previous article, we introduced the navigation function of the MBUX system. Today, we'll continue to discuss further about the Bluetooth connection by looking at case studies.
Before entering the topic, it should be explained that there are two main methods of accessing the internet using mobile devices as hotspots in vehicles. The first most commonly used one is Wi-Fi Hotspot, and the second one is using Bluetooth tethering.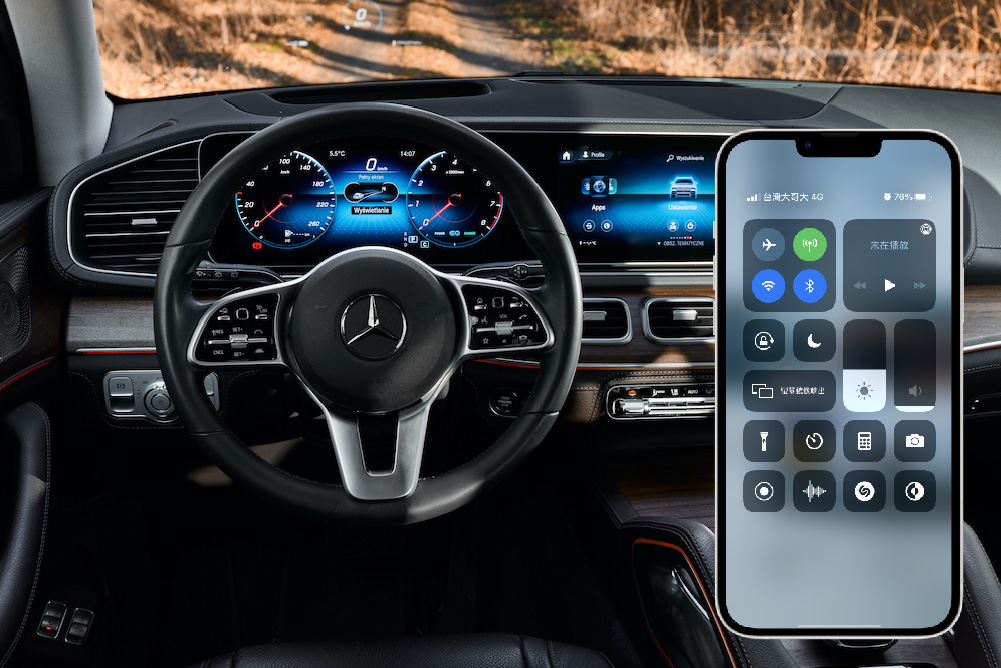 The Differences Between Wi-Fi Hotspot and Bluetooth Tethering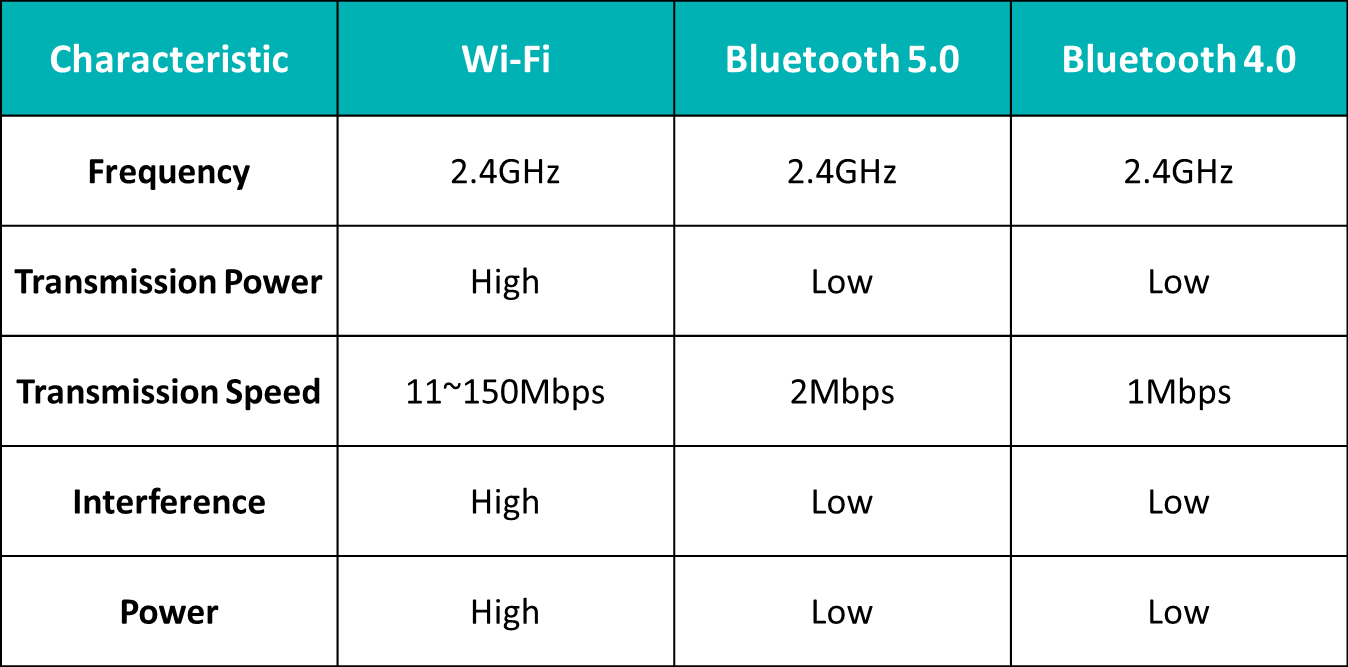 Wi-Fi Hotspot
The mobile Wi-Fi hotspot converts the 4G/5G network into a Wi-Fi signal and shares it as an access point (AP) with the vehicle, allowing the system to access the Internet. The advantage of Wi-Fi hotspots is that is can allow more many devices to access the network, usually up to eight devices. Also, transmission speeds are much faster than Bluetooth tethering. However, one of the disadvantages is its radio waves can be interfered with by various wireless signals, the air and different materials around it. The download speed of receiving devices is usually only 30%-70% of the original phone that is sharing. The more devices are connected, the slower the speeds are. Also, power consumption is an issue as well. According to research, when a phone turns on its Wi-Fi hotspot, it consumes about 10% of the battery every hour.
Bluetooth Tethering
Bluetooth tethering converts the phone's 4G/5G signals into a Bluetooth signal for the vehicle to connect with. Bluetooth sharing capability has several advantages, including lower power consumption, high security and compatibility, extended effective range, and lower cost.. However, a drawback is the limited network speed of 1-3 Mbps. It's worth noting that Bluetooth sharing has lower transmission power and standby power consumption compared to Wi-Fi. When comparing power consumption during standby with one device sharing a hotspot, Wi-Fi consumes an average of 10% of power per hour, while Bluetooth sharing consumes only 1/3 of Wi-Fi's power.

Mercedes-AMG GLE Coupe 53 Usage Scenario – Part 2: Bluetooth Tethering
Case
Scenario: When you want to delete a past connection with Bluetooth tethering
Issue: When connected to the Internet via Bluetooth, the past authorized device could not be deleted.
Function: After accessing the authorized device, the delete function should be able to execute normally.
Potential Reasons: When pressing the touch screen of the system, it's possible that the screen did not return the input command during handshake or it did not receive the action command from the vehicle, leading to malfunctions.
User Impact: You can see the authorized mobile device under the network devices, but if you try to delete it by pressing the trashcan icon, there is no response. This will inevitably harm the user experience.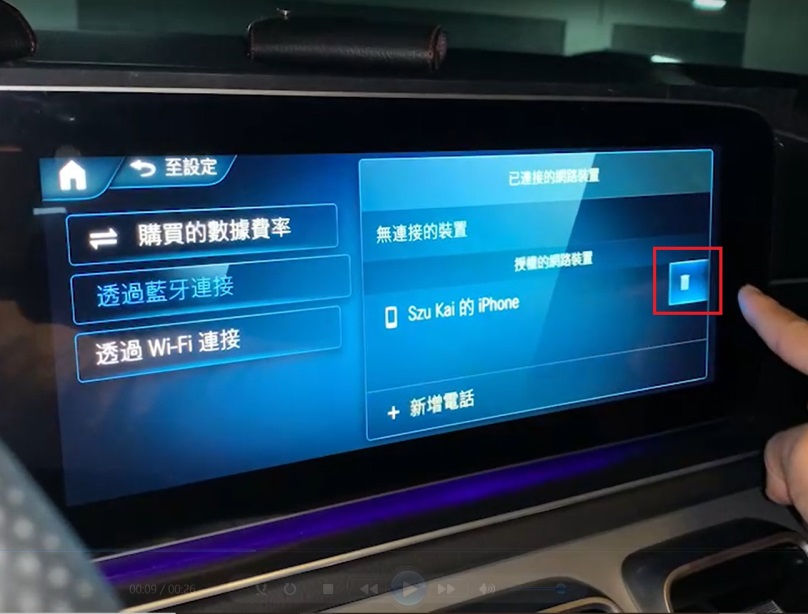 This is the end of today's article discussing Bluetooth tethering. Stay tuned for more professional testing content. If you have any further needs for testing, verification, or consulting services related to the automotive ecosystem, please feel free to explore the following services online or contact us through the online form.
Automotive Consulting Service
Faster, Easier, Better! Your Automotive Validation Consultant
Allion is deeply rooted in the IT industry and we have accumulated over 30 years of testing and certification experience. We've established a large database of millions of verification data. Through comprehensive intelligent testing suggestions and analysis, Allion can bring vehicle-related clients with a full range of automobile testing solutions, assisting them to achieve strict product quality control, and provide a faster, easier and better integrated consulting services and solutions.
Faster: With industry-leading high-frequency and high-speed measuring capabilities, no matter what the product stage is, Allion is able to help our clients to further accelerate the product testing cycle for various standard or special specifications.
Easier: By implementing AI and automation solutions, Allion ensures that every test is "qualitative, quantitative, and reproducible", helping our clients to improve product performance in a more efficient manner.
Better: With more than 30 years of expertise, specialized technical team, and comprehensive testing environments and equipment, Allion is committed to providing clients with more improved quality of service based on extensive experience of User Scenario Testing.