Allion Labs
The European Union passed a resolution to reduce electronic waste by implementing the use of USB-C ports on all electronic devices by the autumn of 2024. More electronic devices will inevitably adopt USB Type-C ports, which will drive the demand for high-wattage power banks and PD chargers, increasing the power load to 48V/5A.
Apart from charging, the USB Type-C port is also applied to the PC's connection with small devices such as mobile phones and tablets. The interface even enables displays and SSDs to achieve higher transfer rates, as well as supports more transmission protocols. This triggers the question: will we witness easier device connections once all interfaces are unified into one?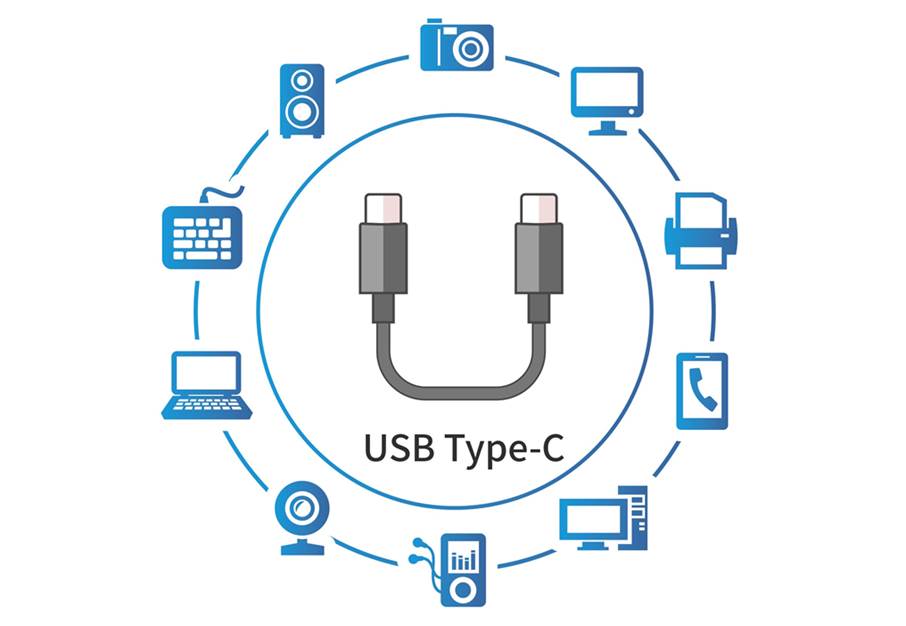 Diversified Products Applications for USB Type-C
USB Type-C covers multiple protocols, including USB 3, Thunderbolt 3, Thunderbolt 4, etc. Also, different product applications correspond to different USB versions and speeds, as shown in the following table: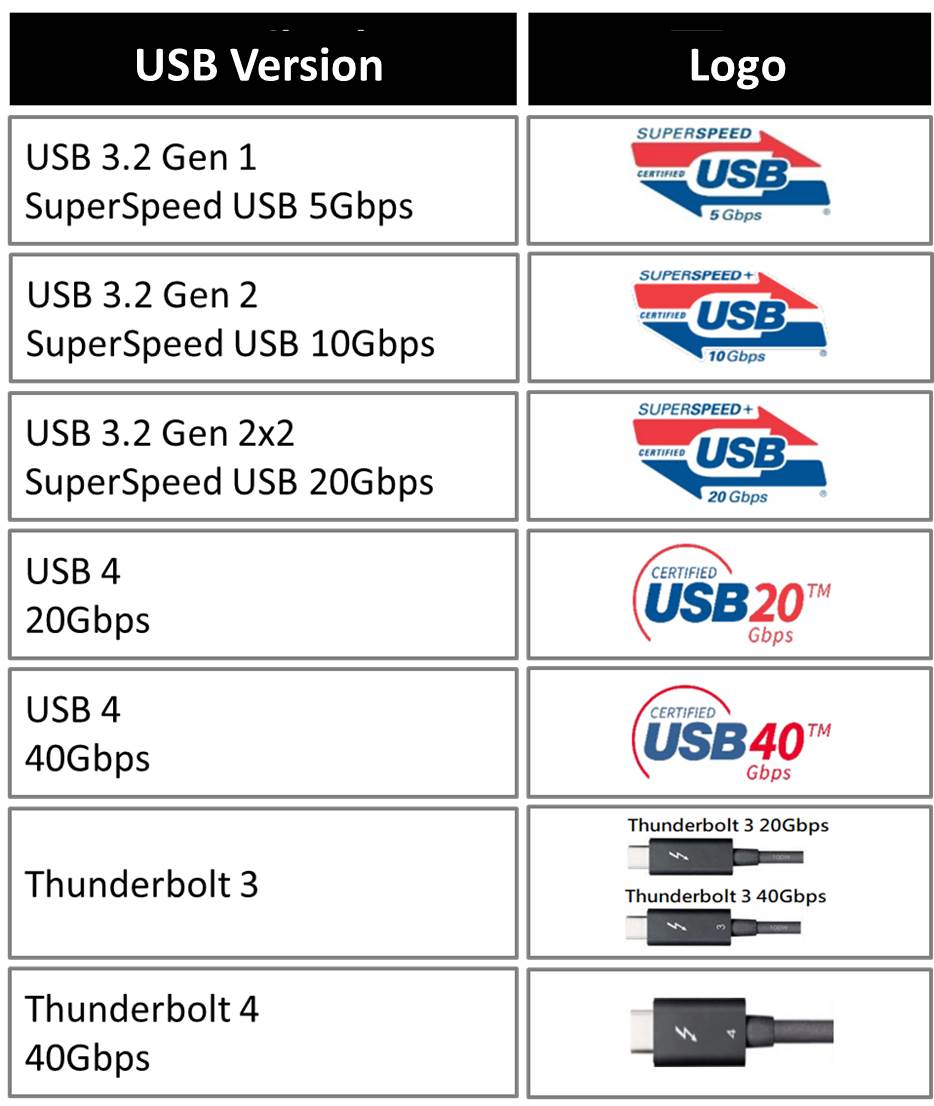 Although they all come in the form of USB Type-C, due to the differences in protocol versions and speeds, the matching of the system, device, and USB Type-C cable must be consistent to achieve the best performance, while different devices or systems require different cables. Taking just speed as an example, USB Type-C cables have the following variants:

Source: Intel
As the transmission rate increase, the power demand for high-speed devices is also on the rise. Thus, USB Type-C products must be launched with different specifications to tackle the situation. In 2021, USB-IF released the USB PD 3.1 revised version, stating that the ERP (Extended Power Range) much reach 240W in maximum power to accommodate the high-power demand. All in all, the massive variety of cable specifications and version rates went out of hand, and the excessive variations have been driving consumers mad with confusion.
o end such a dilemma, in March 2022, USB-IF proposed cable validations combining the transmission rate and power capacity of cables, which also redefined the cable specifications. In the future, cables won't be categorized by their versions, but by their common speed rate and power supply capacity.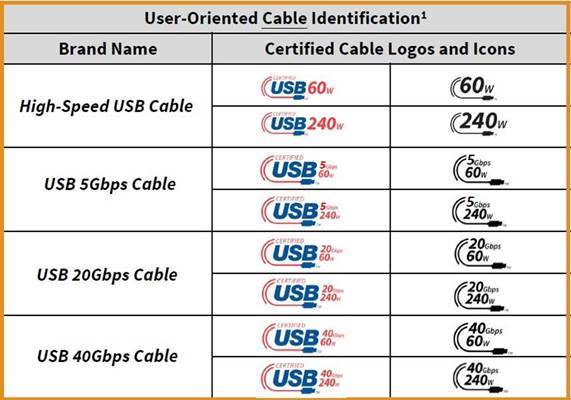 Source: USB-IF
The USB Type-C Compatibility Issues that Must Not Be Neglected
As the specification demands of various product types may differ, finding the most suitable USB Type-C cable has always been challenging, even for seasoned engineers. We're way past those "one cable for all" days and can no longer achieve the top performance in all our systems and equipment tasks by simply grabbing the nearest cable. However, the majority of consumers had accommodated themselves to cable multitasking in their daily lives, while some even believe that all USB Type-C cables are supposed to be all-purpose. Consequently, even when the speed rate and power supply do not match, manufacturers still strive to achieve the lowest specification for all protocols in their products. Facing all possible usage scenarios, if the cable fails at the basic connection function, the consumers will certainly be very disappointed.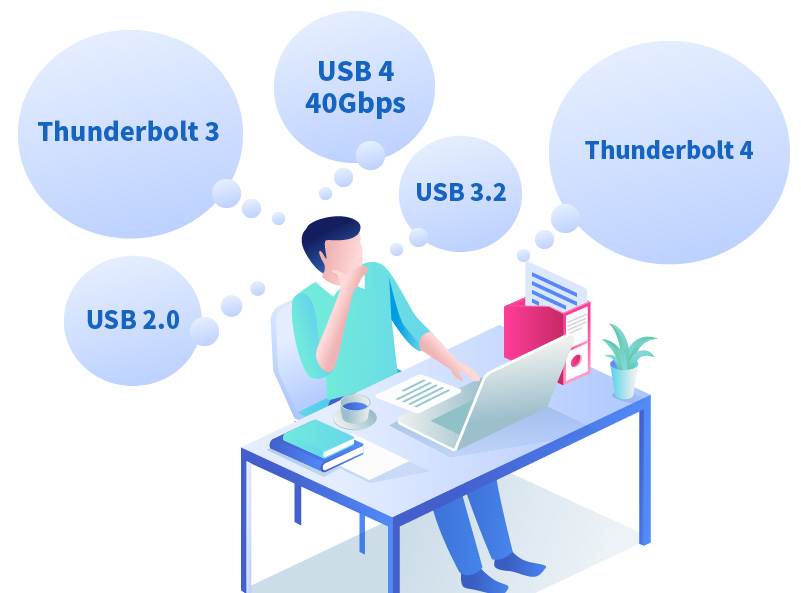 Allion Labs' Comprehensive Cable Validation Testing Service Supports Rapid Product Launch
As the designated laboratory of numerous standard associations, Allion Labs offers a variety of cable and connector validation services, including USB, HDMI, DisplayPort, Thunderbolt, and Car Ethernet. Our service covers flexibility tests, the latest technical specification description, full-range validation consultancy, and real-time correction analysis. We will support you in safeguarding the quality of cable products, assisting you to obtain the certificates swiftly and seize the best timing for the product launch!
Functionality Test
Verifying the consistency of the e-Mark certification and the specification.
Matching tests with the original chargers of mobile phones/tablets/laptops/displays, to verify if the product performance is equal to the original cable.
Various consumer scenario tests: gaming, media, power management, expansion, power supply connection, and others.
Compatibility Test
We possess devices of different models from different brands, offering more than 1500 pieces of equipment to conduct the transmission, connection, and charging tests, ensuring your product's ability to transmit and charge with all brands of computers, MAC, tablets, mobile phones, and other devices charged by USB.
Tests for the connection and transmission between different specifications, as well as transmission modes of various USB PD, to ensure compatible operations.
Endurance Test
The latest generation of Type-C applications comes with high transmission and high power demands. With the high-frequency transmission and the high-voltage and high-current power supply, product endurance and stability are both critical concerns of users.
Validation direction: Long-time high-power product charging/charging curve monitoring/high-resolution media display.
Out-of-Box Experience (OOBE)
To check the labels, the product appearance, packaging, instructions documents, supported transmission speed, voltage and current, validation marks, etc.
In addition to the aforementioned test items, Allion Labs can also design customized tests for your products or extensive comparison tests with products of certain competitors. If you would like to know more or require comprehensive tests for cable-related products, please fill out an online form to contact us. Allion Labs is always at your service!