What is Thread?
Thread is a mesh network protocol designed for low-latency and low-power devices such as sensors. This technology does not use Wi-Fi or the home Internet, but rather a dedicated network system to connect home devices, providing a simple, secure, reliable and affordable means for people to connect their devices. Such devices do not require constant attention, are seldom used except when necessary, and only send simple information before switching back to sleep mode. Since they are not intended for constant use, their batteries tend to be preserved for as long as possible. Home devices such as sensors, door locks, window shades, light bulbs, thermostats, and alarms fall into this category. Moreover, Thread networks are highly expandable, supporting over 250 devices simultaneously.
Thread devices in smart homes serve primarily as routers or terminal devices. A router is usually an external device, such as a light bulb or a smart plug, which can be plugged into a power source and communicate with terminal devices. A terminal device, on the other hand, is typically a battery-powered device, like a sensor or a door lock, which can maintain its charge for a long time. Since the Thread network has a self-healing mechanism, if any router in the network fails for any reason, another router can immediately take over and continue its work, ensuring that the network always stays up. Thread devices communicate directly with each other via point-to-point communication and do not need to be connected through a main control device to find the optimal path for connection – a design approach that directly reduces power consumption, latency, and collisions of connections.
Below is a brief diagram illustrating how Thread devices interact with each other.
A major feature of the Thread network is the Thread Border Router. While Thread can operate independently and terminal devices can communicate directly with each other, you will need at least one Thread border router in order to connect Thread to the Internet. Therefore, even if you are away from home, you can control the smart home devices through a network connection. As an example, Amazon Echo smart speakers (4th generation), Apple TV 4K (2nd generation), and HomePod Mini all support Thread border routers.
There are currently several products on the market that support Thread technology:
Smart door locks
Wi-Fi routers
Smart speakers
Smart light bulbs
Smart sensors

Figure below shows Thread's support for various IP protocol-based application layers, such as Matter, DALI+, HomeKit, etc. A user can choose any application layer, or even build their own.

Image: Thread Group
Matter – the new standard for smart homes
Matter is the latest IoT standard that integrates smart home devices. Through Matter, all accessories can be used cross-platform, regardless of their original connection method. In the future, different smart home brands will be compatible with each other, even if they are made by different companies. Over the past few years, companies in the smart home field have focused on differentiating their products from their competitors, developing their own ecosystems, and trying to monopolize the market for consumers. This has resulted in a much more complicated and cumbersome wireless connection space for smart home devices – which deviates from the original purpose of creating convenience. Therefore, Smart Home ecosystem giants such as Apple, Amazon, and Google have been promoting Matter as a smart home solution with the support of the Connectivity Standards Alliance (CSA) standards organization.
The figure below illustrates Matter's operation structure. Basically, the network is divided into the "Ecosystem and cloud", "Application Layer", "Network/Transport Layer", and "Physical/Link Layer (MAC/PHY)".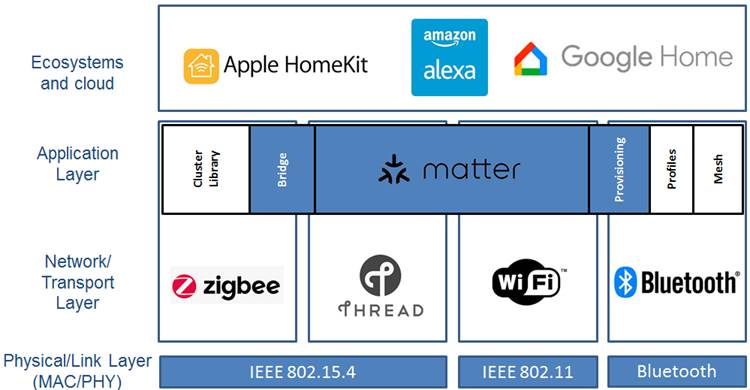 Matter is found in the "Application Layer" and is responsible for determining the device's functions, while "Network/Transport Layer" is responsible for connecting the device to the smart home system via ZigBee, Thread, Wi-Fi, or Bluetooth transmission. One of the most important functions of a smart home is automatic control between devices, and the Thread protocol provides a more secure, convenient and faster connection under Matter.
Here is a diagram showing how Thread-enabled Matter devices operate within a home network. Using the Matter Controller, for instance, you can control light bulbs without a mobile phone or cloud application.

Summary
The Thread protocol is the most important standard connection protocol for smart homes. It is mandatory that any product supporting the Matter standard also supports Thread technology. It is therefore important for manufacturers to perform Thread certification testing as it increases product reliability and interoperability, thereby increasing their competitiveness and brand trust. As a result, choosing a reputable testing and certification organization as a long-term partner will also be vital for product quality assurance.