Car Ethernet Consulting
Head unit is seen as the essential core of vehicles because it is where most smart features are displayed and accessed. In addition to Car Ethernet test fixtures, Allion PM and engineering teams provide timely support and outstanding consulting quality at different stages of product development.
Inquiry
Car Ethernet, the Technology for Connected In-Car Safety and Entertainment
In-car electronic devices, such as dashboard, engine starters, sensors, and infotainment systems, have their own circuits and controllers. Among various transmission interfaces, Car Ethernet is designed to process vast information within a short period of time. Since Car Ethernet features high reliability, high bandwidth capacity, and low latency, it has been widely applied to human-machine interface. Car Ethernet is also deployed to power Advanced Driver Assistance Systems (ADAS) and In-Vehicle Infotainment System (IVI System).
Car Ethernet Issues under the Ideal of High-Speed Data Transmission
1. Huge amount of data and information generated by in-car electronic devices must be transmitted and processed simultaneously. If the transmission signals are not stable enough or it takes too long to respond, this might cause errors and affect driving safety.
2. Besides Car Ethernet, there are many other wireless and wired technologies incorporated onto vehicles. For example, many head units are embedded with different types of interfaces, such as HDMI, USB, Bluetooth, and Wi-Fi. The complicated in-car communication network makes it hard to conduct verifications because channel characteristics of each system and the entire automotive electronic environment must be taken into account.

Secure the Car Ethernet Quality with Allion's Training and Consultancy
Car Ethernet applications are complex because it involves a wide variety of systems and subsystems. Allion has accumulated many years of experience in testing cables and connectors, especially in the field of Internet of Vehicles (IoV). Moreover, we are able to develop test fixtures and provide comprehensive consulting services.
Our Car Ethernet Consulting is composed of "Training Courses", "Test Environment Setup", and "Technical Support". We assist automakers and suppliers to establish their own testing capabilities at different stages of product development, including design, verification, debugging, troubleshooting, and maintenance of in-vehicle electronic network.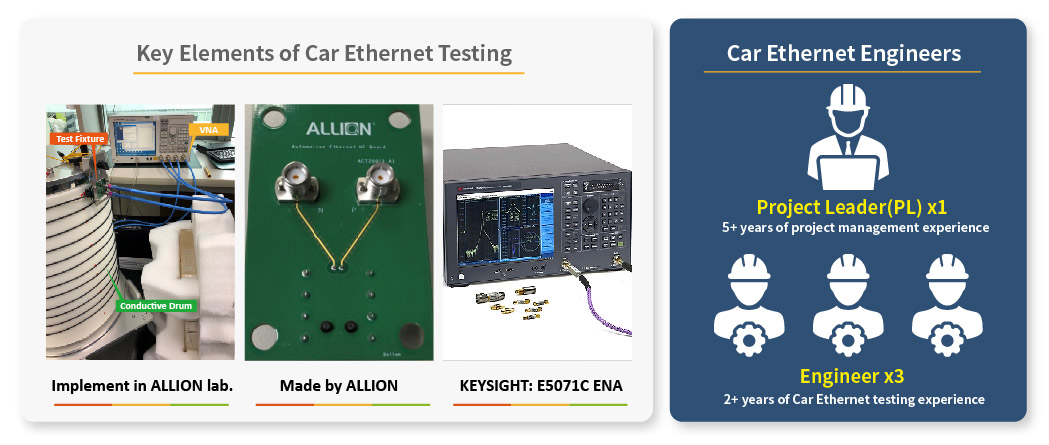 Equipment and professional personnel serve as the decisive factors for building Car Ethernet test environments. Based on our rich experience in this field, we can save your time and expenses by giving you the right advice you need.
In addition to designing Car Ethernet test fixtures, Allion also provides other consulting services to ensure that the product quality and reliability actually meets users' expectations. If you are interested in knowing more about Car Ethernet testing and consulting services, please contact us at service@allion.com