The HDMI Passive Adapter Compliance Program
The HDMI interface, widely used in various audio/video devices, is now the most popular in the market. As a result, different HDMI connectors, such as Standard HDMI, Mini HDMI, and Micro HDMI, have been made. There are also different HDMI adapters on the market today, such as male /female, standard-to-micro, and more. In the past, the HDMI Association did not clearly define HDMI adapters, making it difficult for HDMI adapter manufacturers to pass certification testing.
The HDMI Association officially launched the HDMI Passive Adapter Compliance Program in April 2023. This program covers most adapters, including pigtail-type connectors, small attachment-type connectors, adjustable cable-type connectors (wall-mounted HDMI sockets), and more.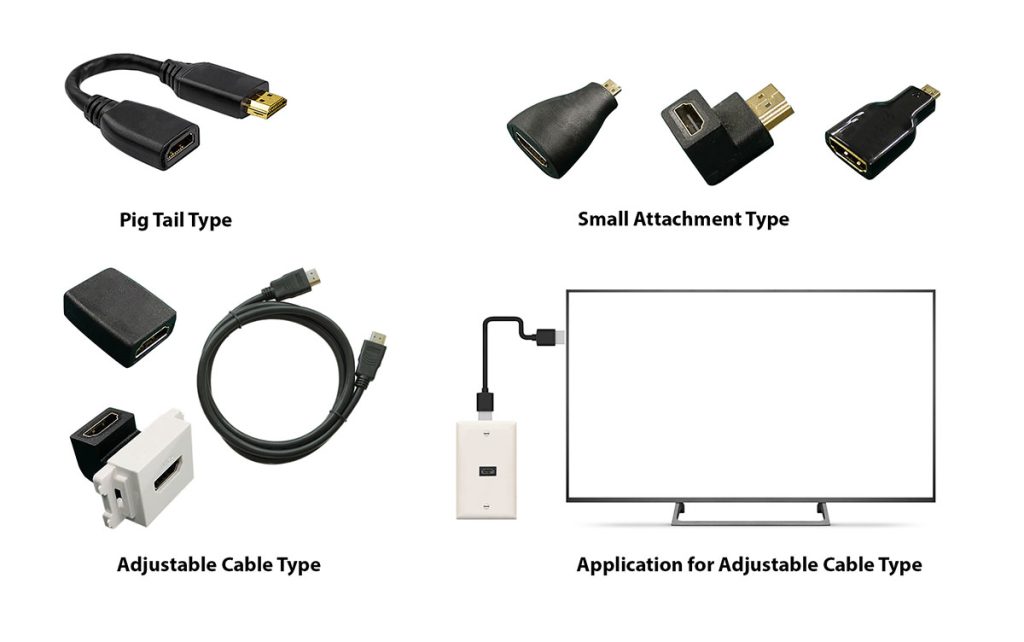 Related Article:HDMI LA Announces Two Major Updates to HDMI Cables Certification Specifications
Potential Risks
Allion, an authorized testing laboratory of the HDMI Forum, has worked closely with major international brands and manufacturers for decades. The following will be an in-depth discussion about the potential risks of HDMI adapters, HDMI specifications, and data from product testing.
Uncertified HDMI Products May Face Strict Inspections or Forced Removal From Shelves
Last year, the HDMI Association registered for trade dress. A product is considered an HDMI product as long as the appearance of it involves HDMI sockets or pins. These products must comply with HDMI specifications. In May 2023, the HDMI Association also launched an anonymous reporting system for consumers to report HDMI products that do not comply with the required specifications. HDMI adapters that failed the certification tests or have not taken them may face inspections from the HDMI Association and might even be forced to be removed from shelves. This is the potential risk that brands and distributors will face if they fail to require their suppliers to complete HDMI certifications.
Male/female HDMI Type-A Product Test
For testing, we used two HDMI Type-A male/female adapters to measure quality, then we ran an impedance test to understand how signal transmission was affected. The result was the Model A adapter performed poorly during the impedance test. The red parts of the graph signify values that exceed the SPEC specifications. It can also be seen that the 8K signal could not be displayed, and the 4K signal was severely distorted. For the Model B adapter, the impedance values also exceeded the SPEC specifications, but it was not as serious as the Model A adapter. The 4K signals were displayed without problems, but the 8K signals could not be displayed.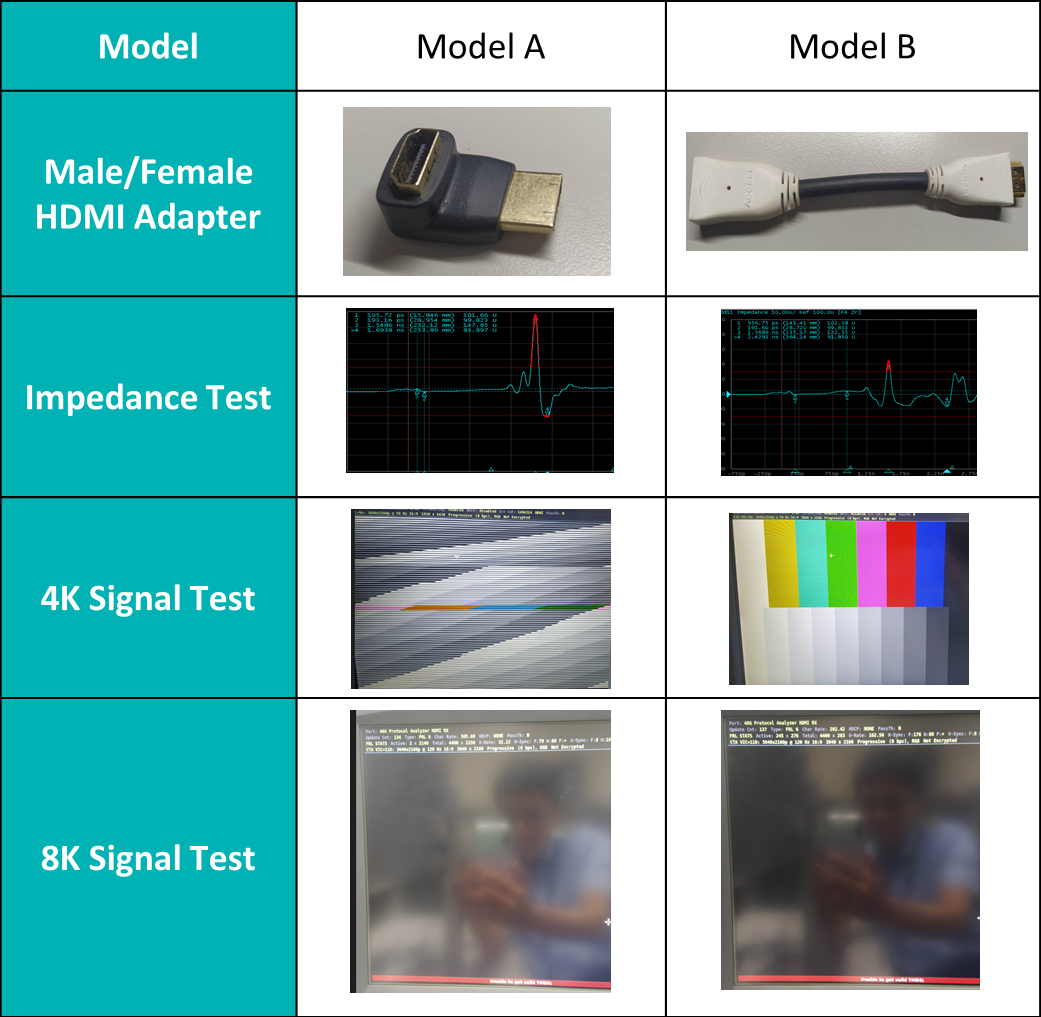 Faster, Easier, Better!Allion Customized Consulting Service for PC Accessories
Allion is deeply rooted in the IT industry and we have accumulated over 30 years of testing and certification experience. We've established a large database of millions of verification data. Through comprehensive intelligent testing suggestions and analysis, Allion can provide a faster, easier and better integrated consulting services and solutions and help clients eliminate most issues they encounter, reducing the risk of shelf removal and product returns.
Complete HDMI Compliance Testing: Passing HDMI certifications can avoid being inspected by the HDMI Association and also ensures high-quality 4K signal transmission.

 

Customized Test Consulting Services: The HDMI Association only regulates 1.4 CTS certification tests, which only ensures 4K signal transmission. Allion can run additional 2.1 SPEC tests to ensure high-quality 8K signal transmission.

 

HDMI Compatibility Testing: Ensures the connection between various types of HDMI products all work normally.
Faster
With our rich testing experience and collection of testing equipment, we can provide clients with fast and accurate certification planning that effectively shortens the certification schedule and helps clients quickly obtain HDMI certification. Allion is an official certification laboratory authorized by the HDMI Forum. We also have a complete range of HDMI testing equipment that can ensure compatibility amongst different kinds of HDMI products, helping you with your quality control along the way.
Easier
Allion has a complete range of HDMI hardware certification testing equipment and testing environments. With our testing solutions, we can ensure each client's certification process is qualitative, quantitative, and reproducible. Through Allion's professional issue isolation and debugging support, we can assist our clients in obtaining accurate test results easily, ensuring the quality and performance of their products.
Better
Not only does Allion have professional teams with decades of experience, but we also know how to design quantitative tests and user scenario simulations, allowing our clients to comply with requirements and user expectations. Allion's professional teams can also provide suggestions for product modifications, assist with supplier management, and help with specifications requirements from international associations during product development. This further enhances the quality of our client's products, ensuring high standards that comply with international specification requirements.

If you have any further needs for testing, verification, or consulting services related to the HDMI product, please feel free to explore the following services online or contact us through the online form.
About HDMI
HDMI is the leading audio-visual transmission interface standard in the electronics industry. With HDMI cables, digital video and audio can be transmitted simultaneously. HDMI technology is widely adopted in various types of consumer electronics. For the latest news regarding HDMI, please contact us or refer to the official HDMI website.