Bluetooth Consulting
Allion is a BQTF accredited by the Bluetooth SIG. Along with our BQCs, we offer Bluetooth Qualification services to ensure product compliance with Bluetooth technical standards. Both consultancy and training are available to OEMs and Tier 1 suppliers who plan to increase Bluetooth capabilities of their products and vehicles.
Inquiry
Bluetooth Sets New Standards in the Connected Car Ecosystem
Bluetooth technology has been widely applied to smartphones, PCs, and peripheral devices. Since people want to stay connected while driving, Bluetooth becomes the best option to create a better and safer in-car experience. For example, Bluetooth-embedded head units enable users to control Apps on the car's touch screen without the use of an adapter.
Key Use Cases  
In-Vehicle Infotainment System, IVI
Bluetooth Hands-free Calling
In-Vehicle IoT Devices
However, adding Bluetooth to vehicles is not easy as it may seem. Real-world automotive applications using Bluetooth may actually bring trouble instead of convenience to users.
Common Bluetooth Problems in the Car
1. Audio Keeps Disconnecting or Cutting out
Users might encounter audio stuttering issues when pairing their smartphones with the IVI system to play music. Sometimes the Bluetooth connection drops and stops working.
2. Audio/ Video Lag
Bluetooth audio lag makes it hard for users to find the ideal volume. Also, the sound can be out of sync with the movements in the video. If users constantly experience noticeable delays, they will get really disappointed with the product.
3. Fail to Receive Commands or Perform the Given Task
Despite being successfully paired, the Bluetooth-enabled product in the car might not be able to receive commands or perform the given tasks. For example, users cannot adjust the hands-free speaker volume during Bluetooth phone call. Sometimes, they cannot control the Bluetooth music player to pause, fast forward, and skip to the next track, either.
When facing these problems, most users will keep trying to reconnect to the Bluetooth-enabled device. Sometimes it works. But if it doesn't work, it might distract drivers and cause serious consequences!
Allion Equips You to Deal with Bluetooth Issues in Automotive Applications
As in-car communication, car monitoring systems, and other automotive applications rely on Bluetooth technology, Bluetooth qualification testing has become a must for OEMs and tier 1 suppliers to ensure the functionality and reliability of products. Moreover, discovering issues at early stages of product development is pivotal to product quality. This is why you need a self-testing plan supported by Allion.
People, Environment, and Equipment: 3 Basics of Self-Testing Bluetooth Products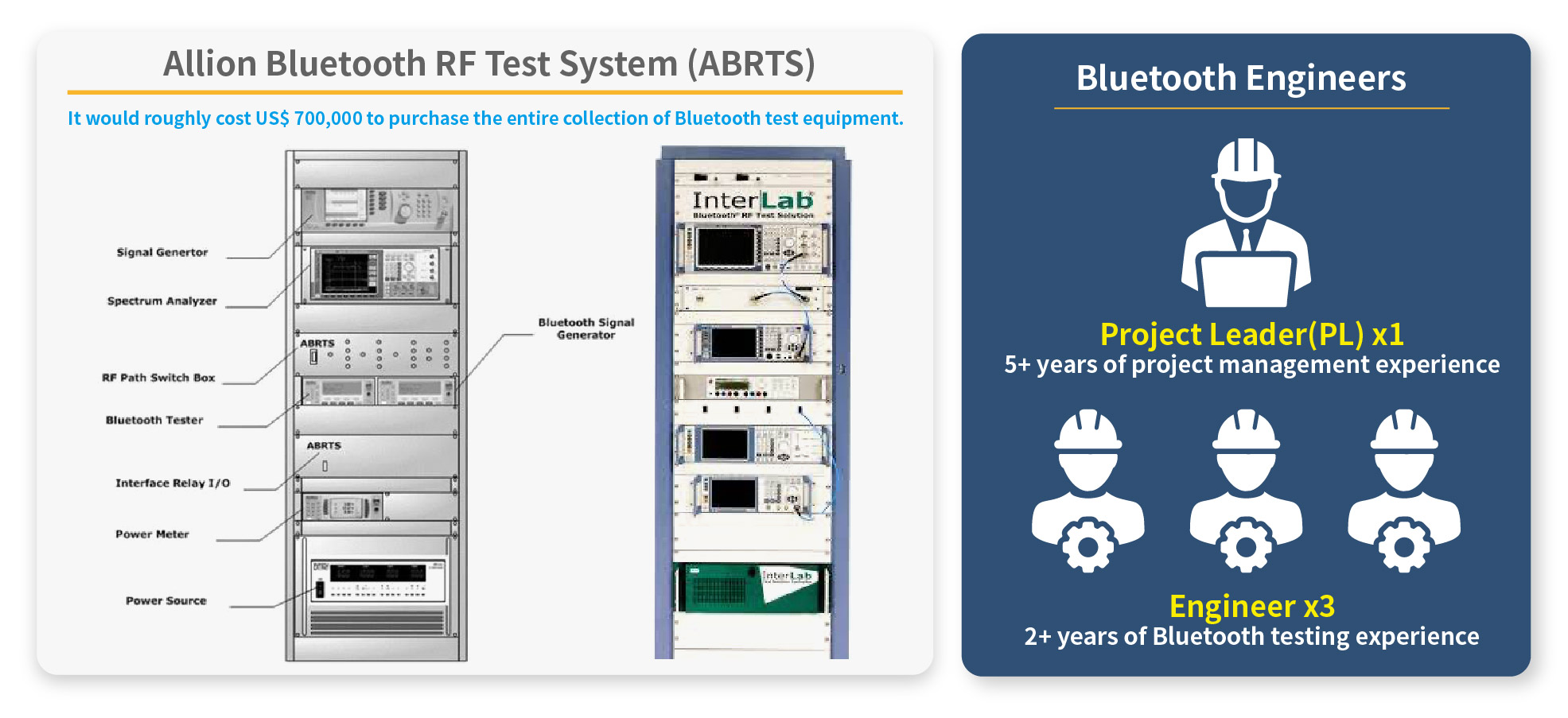 Certified by the Bluetooth SIG, Allion Bluetooth RF Test System (ABRTS) and Allion Bluetooth Test Suite (ABTS) are designed to cover all aspects of Bluetooth qualification testing.
Why Choose Allion?
Allion is a Bluetooth Qualification Test Facility (BQTF) accredited by the Bluetooth Special Interest Group (Bluetooth SIG).
We provide Bluetooth Qualification services along with our 3 Bluetooth Qualification Consultants (BQC).
Allion Bluetooth RF Test System (ABRTS) and Allion Bluetooth Test Suite (ABTS) are certified by the Bluetooth SIG to conduct Bluetooth qualification services.
Allion has accumulated 10+ years of experience in head unit testing. We have tested 150+ IVI systems and discovered 25,000+ issues for various in-vehicle Bluetooth applications.
In just 2019 alone, Allion carried out 1,000+ projects on Bluetooth testing and consulting for our clients.
With the solid technical knowledge and expertise in Bluetooth testing, we offer world-class consultancy to assist you in training personnel, setting up environments, improving the product quality, and delivering better in-car experiences. If you are interested in learning more, please contact us at service@allion.com