Wi-Fi Consulting
Allion is an Authorized Test Lab accredited by the Wi-Fi Alliance. For the era of in-vehicle Wi-Fi applications, Allion can plan the validation process and set up test environments that best fit the needs of OEMs and tier 1 suppliers.
Inquiry
In-Vehicle Wi-Fi Holds the Key to Smart Driving Experience
Wi-Fi technology has been widely applied to various electronic devices. As users demand a personalized smart driving experience, Wi-Fi technology is getting popular in the automotive ecosystem. Here are some popular in-vehicle Wi-Fi applications:
In-Vehicle Infotainment System, IVI
Wireless Projection
Navigation and Directions
Share Wireless Internet
Audio/ Video Services
IoT Devices for Vehicles
Stable In-Vehicle Wi-Fi Keeps Driving Safe and Smart  
Since intelligent vehicle applications evolve, driving scenarios will become more diverse and complex. If an in-vehicle Wi-Fi product does not function stably on the road, users will start losing trust in that product. Moreover, unstable in-vehicle Wi-Fi connections might distract drivers and lead to serious consequences.
Common In-Vehicle Wi-Fi Issues and Customer Complaints
There are many more connectivity issues in real-world scenarios. The point is, drivers and passengers will discover that the in-vehicle Wi-Fi product does not work properly as soon as they get in the car and try to use Internet. This is definitely going to frustrate users and damage driving experiences.
Good Product Verification Saves You Time, Energy, and All the Trouble
Product development requires a significant amount of time, manpower, and resources to be successful. After all the time and effort, it will be a great pity if the product quality turns out to be frustrating. This is why setting up your own Wi-Fi test facilities is necessary for better in-vehicle connectivity and user experience.
Allion Opens the Door to "Test it Yourself"
People, environment, and equipment form the core of product verifications. Based on the three factors, Allion now offers both Wi-Fi testing and consulting services to help you get a better understanding of Wi-Fi and set up the test facilities that meet your requirements.
Allion Wi-Fi Consulting Services


Procurement of Equipment & Project Engineers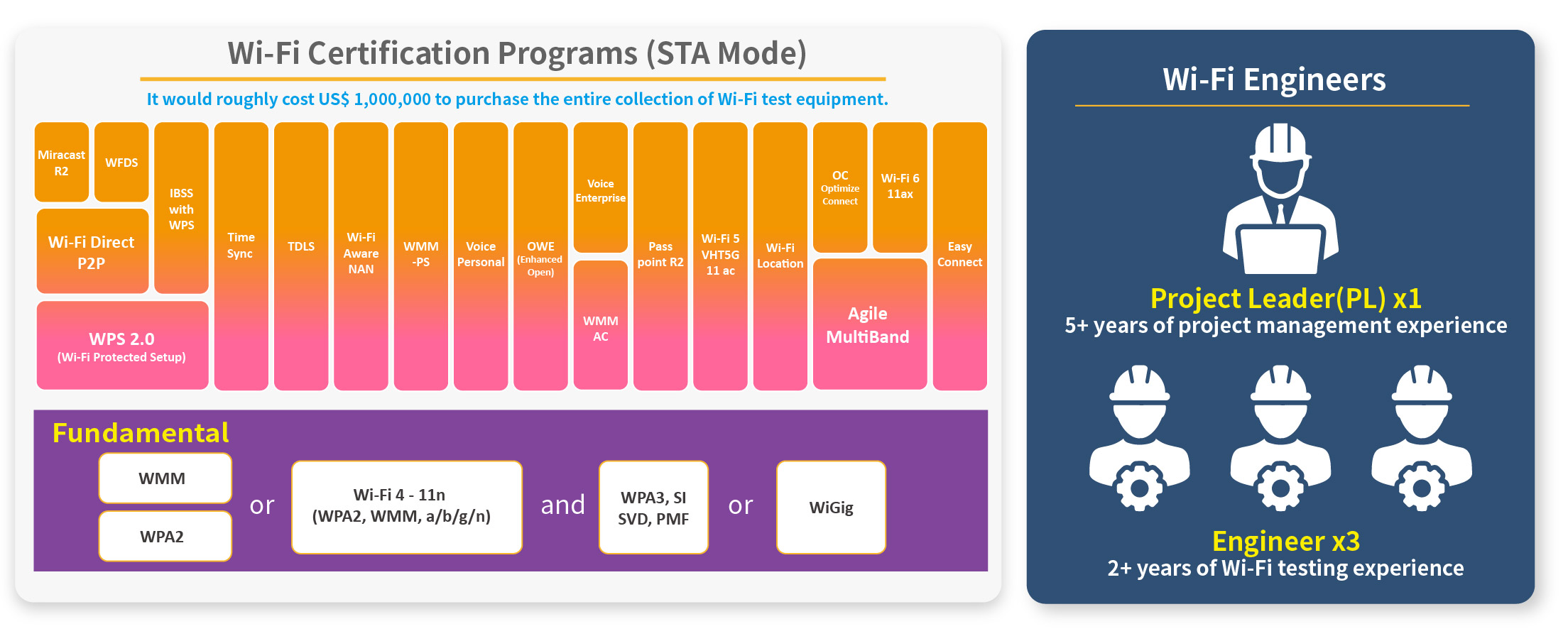 Why Choose Allion?
16 years of hands-on Wi-Fi certification and testing experiences
Allion is one of the first test labs worldwide to provide Wi-Fi CERTIFIED 6™ certification testing
Allion is the only test lab in Asia to provide all Wi-Fi certification programs
Assessment of test facilities, equipment procurement, and technical personnel training
Allion Wi-Fi Consulting helps you address the in-vehicle Wi-Fi problems by delivering maximum support based on your needs and priorities. If you are interested in learning more about in-vehicle connectivity and networking, please contact us at service@allion.com