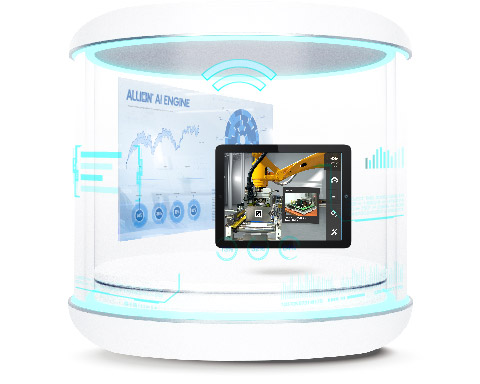 Allion Cloud-based Platform

Allion Solution is built upon years of our experiences in the validation of IoT devices and networks. We strive to build a monitoring system that is accurate, stable, and reliable to assist vendors in implementing digital platforms to boost the performance of their business management.
Inquiry
Saving costs and reducing risks with internet of things
The biggest challenge that vendors face now is "where to start?" Industries are on the brink of transformations, as they are fully aware of the benefits that digitalization could bring to their businesses, it is challenging to initiate digital transform. To overcome this obstacle, Allion provides a solution that ensures a solid network to oversee your operations.

Data, Cloud, Smart Technologies
The solution provided by Allion allows individuals and businesses to set aside conventional asset management, which could be labor-intensive and time-consuming, and embrace a new solution that generates higher efficiency. Allion Solution gives vendors the opportunity to engage in 24/7 monitoring, customize access entry, and intelligent settings based on their needs. We strive to build safe, smart, and highly-efficient working scenarios for all.


Case 1: IT Industry– Facilities Management (Server Room, Data Center)
Computer facilities are one of the most valuable assets in an enterprise. These facilities are stored with machinery, server, and other expensive equipment. These facilities should be monitored 24/7 to achieve energy management, to prevent unplanned downtime, and leakage of confidential data.
Energy Management: Measuring the amount of electricity used in the facilities. These data are being sent back to a platform that allows users to check out the overall electricity consumption and usage distribution through designated times. This solution will deliver precision in electricity measuring that will allow users to make better decisions.
Electricity Usage: The same monitoring system can be applied to electricity bill management. Users can get instant updates on how much electricity is consumed without having to go through the trouble of contacting public sectors.
Entry Access Authority: Get an overall view of how many people are working at the facilities. All entry records are stored for future reference, and access authority can be reconfigured whenever there is personnel change.
Equipment Activation Rate: Control the utilization rate of software and hardware equipment, record the number of executions to streamline operations, and reduce the resources, manpower, time, and cost required for system operation.
Case 2 Warehousing Management – Everything on the cloud platform
Warehouse management is the core of supply chains. With the rise of smart technologies, factories are looking for ways to transform digitally in order to lower costs and increase work efficiency.
Warehouse automation: In the past, a lot of manpower was needed for warehousing management. But with the implementation of IoT networks and cloud-based platforms, all sensors are connected and all data are being sent to a single database, enabling every relevant personnel to have access to the platform.
Equipment Rental System: This system allows users to borrow and return the equipment, allowing relevant parties to govern the assets. Notifications will be sent to users to remind them to return the equipment on time.
Case 3 Chamber Management – Real-time Monitoring and Alert Mechanism
Whether it is a test lab, vaults, or warehouses, these facilities all require strict monitoring conditions.
Facilities Maintenance: putting sensors in the facilities, sending all data to the cloud platform, reducing the number of times that staffs have to go in and out of the facilities.
Alert Mechanism: Send notifications to users whenever an issue occurs, such as temperature surpassing standard settings, or unplanned downtime of machines.
Activation Rate of Facilities: Analyzing the on and off switches at the different workstations to get a comprehensive view of all facilities. This allows enterprises to set aside traditional ways of monitoring fields by sending personnel to conduct inspections and gather data. With the sensors and cloud platform, users can monitor their facilities anywhere and at any point in time.
For more information on Allion Cloud-based Platform, please contact us at service@allion.com