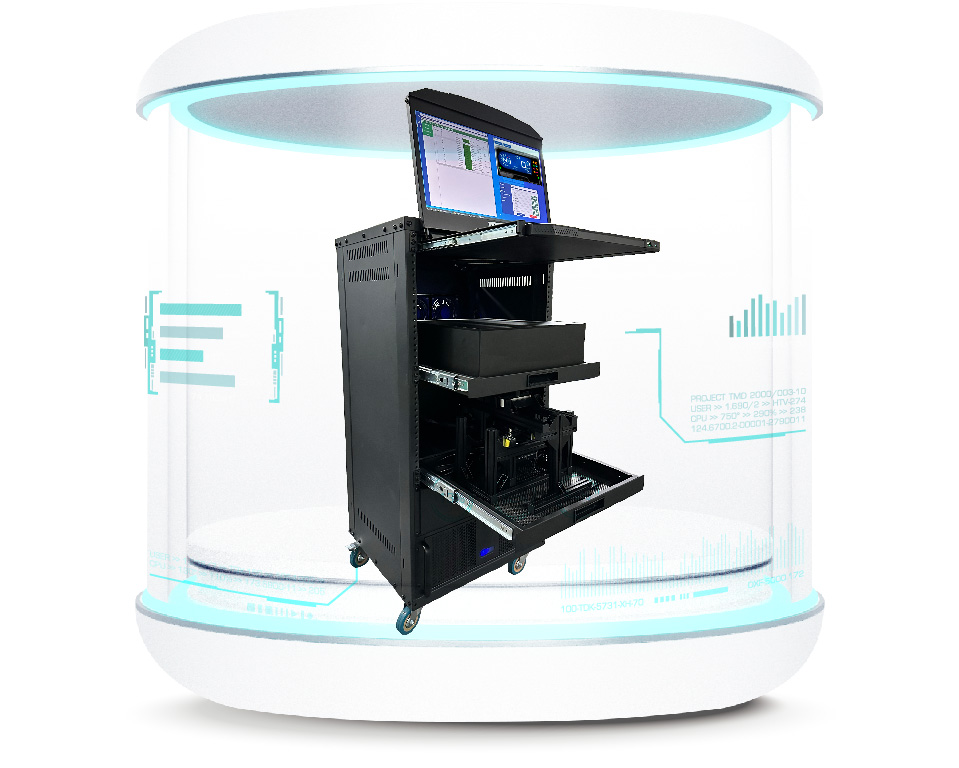 Allion Motor Dashboard Test Platform (AMDT)

With AMDT, you can easily perform uninterrupted automated product verification testing, overcoming manual testing errors, and improving efficiency and stability. Even errors at the millisecond level are not missed.
Inquiry
Why You Need AMDT?
With the rapid advancement of digitalization and smart technology in motorcycle dashboards, the complexity and functionality of dashboards have also increased significantly, which also highlights the importance of instrumentation testing. As digital and smart dashboards has a higher integration of hardware and software, it is crucial to ensure that the dashboard accurately displays various vehicle data and operates correctly under different environments, loads, and prolonged usage conditions. Therefore, conducting multiple professional tests for motorcycle dashboards has become essential.
In order to pass the complicated and trivial dashboard testing, the accuracy and stability will directly affect the validity and final results. However, traditional manual testing often faces inherent limitations such as time constraints, inconsistent test quality, and the inability to operate for extended periods, leading to potential loopholes or errors in the testing process.


Allion Motor Dashboard Test Platform (AMDT)
Allion Motor Dashboard Test Platform (AMDT) is a powerful automated testing solution designed specifically for motorcycle dashboard systems. AMDT not only features an intuitive user interface but also integrates smart AI cameras, proprietary visual recognition algorithms, flexible key controls, enabling precise targeting of testing devices. Moreover, it's also equipped with Log/Report system to support you in recording and tracking the root cause of the problem.
With AMDT, you can easily perform uninterrupted automated product verification testing, overcoming manual testing errors, and improving efficiency and stability. Even errors at the millisecond-level are not missed.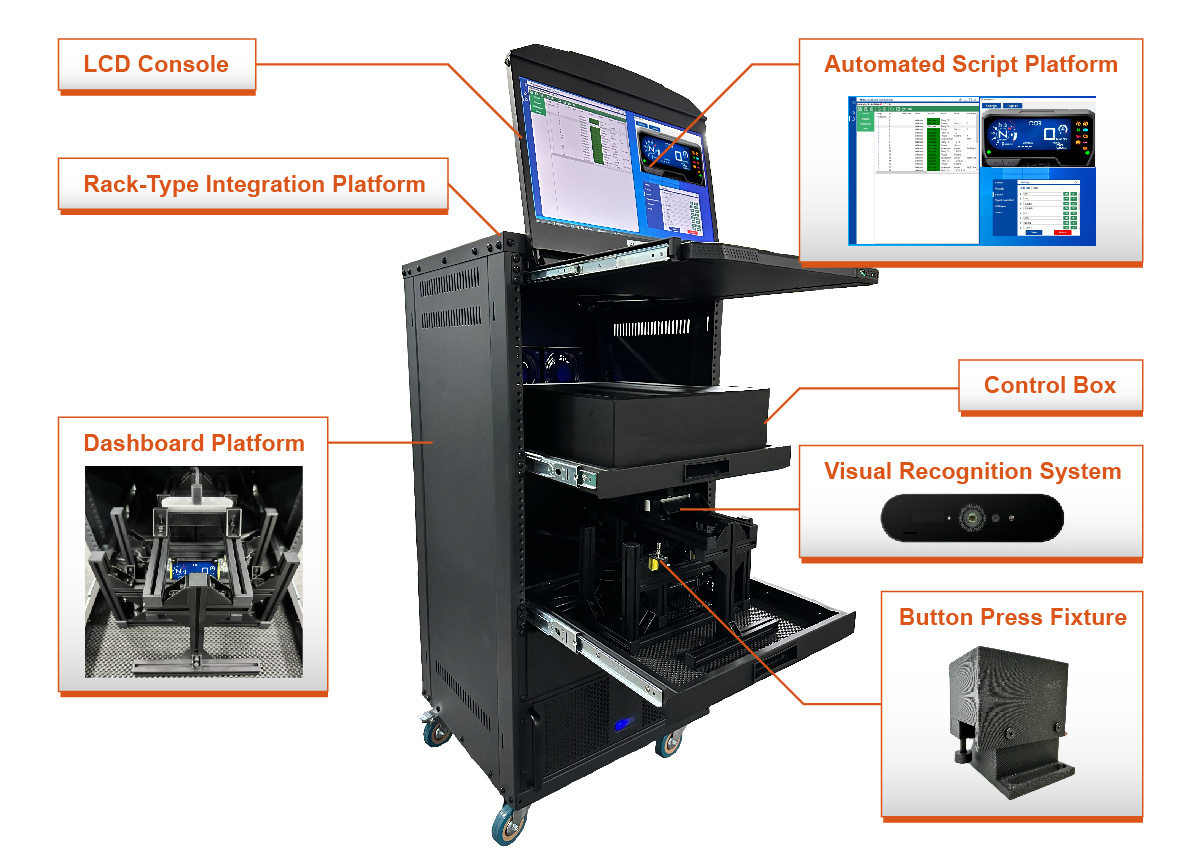 Features
Intuitive Interface & Programming-Free Script Writing
By simplifying the software interface, test engineers can easily manage and control test processes, saving their energy for more important matters. Through the modularization of arm motions, test engineers can quickly comprehend and set up arm motions, mobile phone actions, and system parameters without needing to write additional test scripts.
Visual Recognition
The smart camera integrates visual recognition software, which compares the recorded footage with the image database to recognize objects, images, or text while responding appropriately.
Signal Control System

By integrating power supply, light sensor, and push-pull solenoid switch control for dashboard. Control Box can control the power on/off, flameout simulation, activate the light sensor, and operate the push-pull solenoid left/right buttons.
Button Press Control System
Utilizing programmable button press fixtures to press physical buttons on the dashboard, it can simulate various user operation behaviors as if done by human hands. Furthermore, you can adjust the number of button presses and arrange specific test scenarios based on your testing needs.
Single-button press
Double-button press
Multi-button press
Press duration setting
HIL Integration Control System

Allion's HIL (Hardware-in-the-Loop) Integration Control System helps you significantly enhance automated testing and reduce manual intervention.

AMDT can be integrated with your current HIL testing systems, such as Vector, NI, TI, etc., allows simulation of corresponding signals through voltage, resistance, current, frequency, and CAN Bus, enabling HIL simulation testing.
Furthermore, Allion integrates the Fault Injection testing required by ISO 26262, empowering developers to respond and recover from system faults, ensuring functional safety under normal operation and fault conditions.
Log/Report System
The Log/Report System records all test activities, enabling developers to view test results and test footage, playing a key role in finding the root cause of system bugs
Faster, Easier, Better! Your Reliable Validation Expert
Allion is deeply rooted in the IT industry and we have accumulated over 30 years of testing and certification experience. We've established a large database of millions of verification data. Through comprehensive intelligent testing suggestions and analysis, Allion can provide you with faster, easier and better integrated consulting services and solutions , assisting you to achieve strict product quality control.
Faster: With industry-leading high-frequency and high-speed measuring capabilities, no matter what the product stage is, Allion is able to help our clients to further accelerate the product testing cycle for various standard or special specifications.
Easier: By implementing AI and automation solutions, Allion ensures that every test is "qualitative, quantitative, and reproducible", helping our clients to improve product performance in a more efficient manner.
Better: With more than 30 years of expertise, specialized technical team, and comprehensive testing environments and equipment, Allion is committed to providing clients with more improved quality of service based on extensive experience of User Scenario Testing.