Allion is authorized by the Wi-Fi Alliance to provide the latest Wi-Fi 6E device certification, now offering consulting services on the specification and certification of Wi-Fi 6E.
Wi-Fi Alliance released the latest Wi-Fi 6E on January 7th this year, extending the features and functions of Wi-Fi 6 to the unlicensed 6GHz bandwidth. By operating on the broader bandwidth, Wi-Fi 6E delivers users a faster, more efficient, and seamless experience.
Wi-Fi 6 was first released by the Wi-Fi Alliance in 2019. Based on IEEE 802.11ax, Wi-Fi 6 made a major breakthrough in the reliability, connectivity, and performance of wireless networks. But as the numbers of wireless devices grow, the existing 2.4 GHz and 5Ghz bandwidth are getting increasingly congested, thus slowing down the network.
Wi-Fi 6E operates on the 6GHz unlicensed band and can support up to 7 160MHz channels (The number of channels may vary in different countries and regions). Compared to Wi-Fi 5 which only supports up to 2 channels, Wi-Fi 6E has greater advantages in environments such as crowded campus, busy traffic hubs, large-scale commercial networks, or when utilizing virtual reality.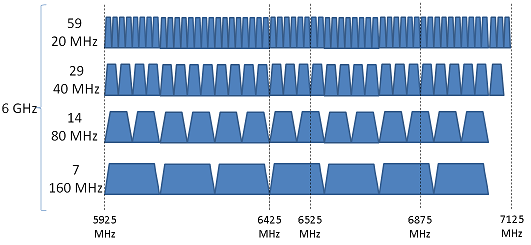 Wi-Fi 6E supports up to 7 160MHz Channels
Wi-Fi 6E supports the following functions:
DL OFDMA, UL OFDMA
Target wake time TWT
Downlink multi-user MIMO
Transmit Power Envelope
Allion ensures the interoperability of your Wi-Fi 6E with Wi-Fi6.
Wi-Fi 6E Test Plans:
Wi-Fi 6E test plan addendum
Wi-Fi Agile Multiband™ (MBO) test plan addendum
Protected Management Frames (PMF) test plan addendum
Wi-Fi 6E devices must pass the following tests:
Wi-Fi CERTIFIED 6™
Wi-Fi CERTIFIED™ n and/or Wi-Fi CERTIFIED™ ac
Wi-Fi CERTIFIED WPA3™
Wi-Fi CERTIFIED Agile Multiband™
Wi-Fi CERTIFIED Protected Management Frames
Wi-Fi Enhanced Open™ – (For traditional networks with no protections.)
Allion is one of the first global test labs to offer Wi-Fi 6E certifications. Allion is also the only Test Lab in the world to provide consulting and testing services for full Wi-Fi compliance programs. For more information, please contact us at service@allion.com.