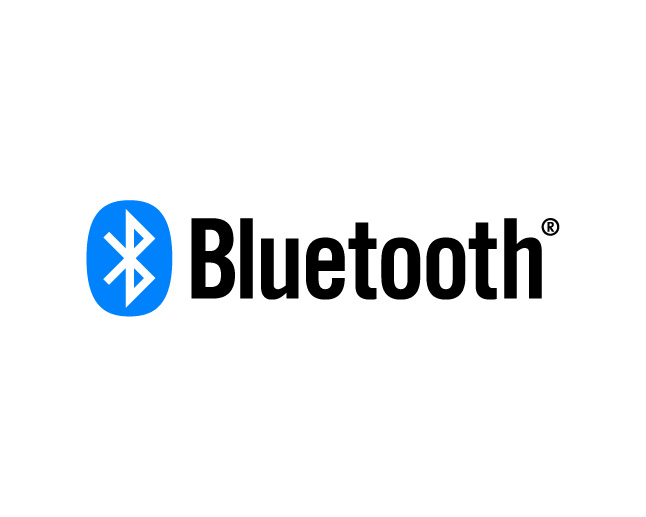 Bluetooth®
Discount for flash sales
Take Action now!
Bluetooth® wireless technology is now considered the most widely-adopted short-range wireless standard that enables connectivity for electronic devices around the world. The technology continues to evolve, building on its inherent strengths–small-form factor radio, low power, low cost, built-in security, easy-to-use, and multiple connection methods.
Inquiry
Testing and Consulting Services for Bluetooth® Qualification
As a BQTF (Bluetooth Qualification Test Facility) accredited by the Bluetooth SIG (the Bluetooth Special Interest Group), Allion provides Bluetooth Qualification services to ensure product compliance with Bluetooth technical standards. In addition, our authorized BQC (Bluetooth Qualification Consultant) with solid technical knowledge and expertise offers world-class consultancy to assist customers in improving quality of Bluetooth products to deliver better user experiences.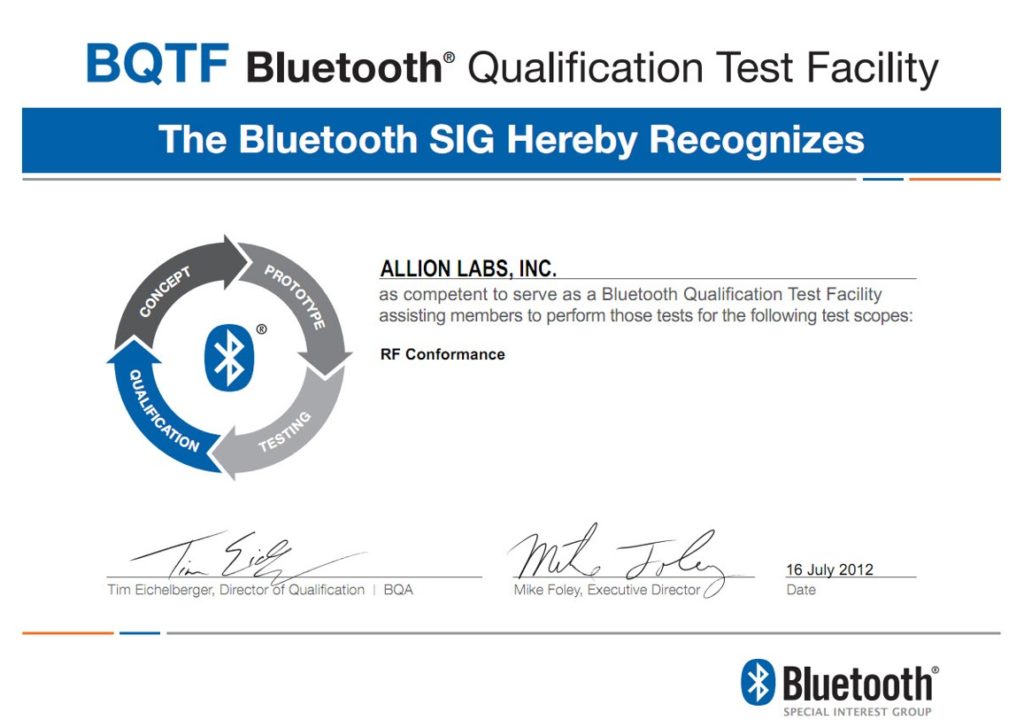 Bluetooth® Qualification Testing   
Allion offers Bluetooth Qualification testing to ensure devices comply with Bluetooth standards. At Allion, we provide:
RF & RF-PHY Conformance Test

Protocol Conformance Test

Profile Conformance & Interoperability Test
Bluetooth® Test Coverage


Bluetooth® Qualification Consulting
Approved by Bluetooth SIG, our BQC (Bluetooth Qualification Consult) provides technical consultancy for customers throughout the qualification and listing process, including:
Test Plan Generation

Test Report Inspection

Document Examination

DID Listing Support

Product Listing & Declaration Support

New Policy Update Consultation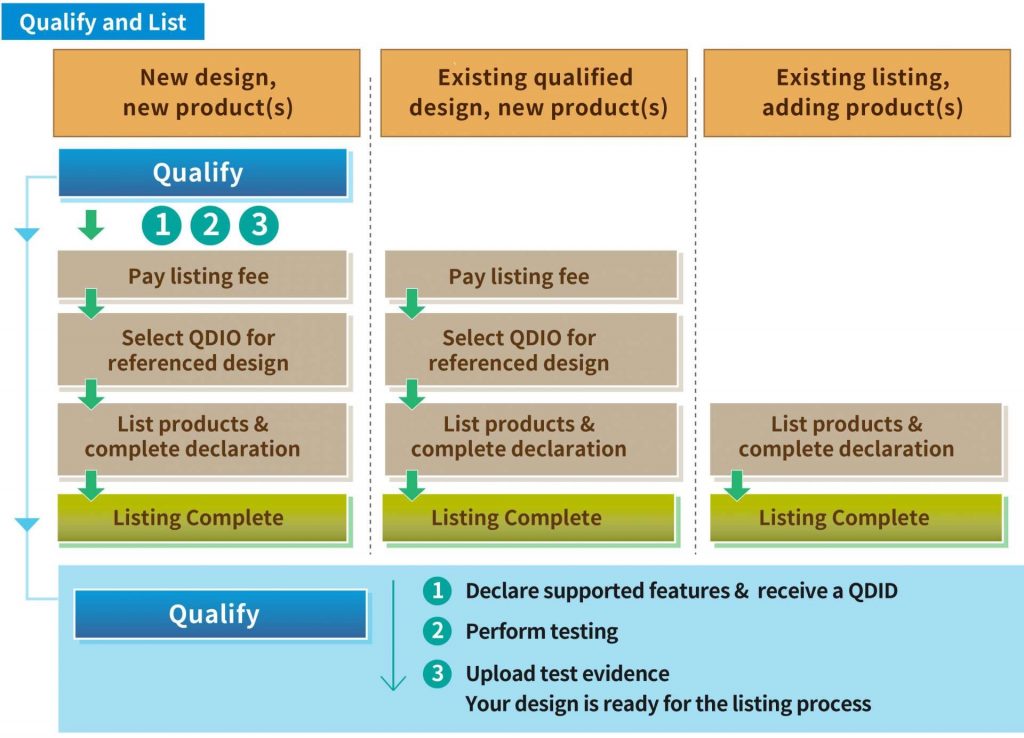 Bluetooth® Testing Environment
ISO 17025 Accredited Laboratory

Interference Barrier (Shielding Box and Shielding Room)

Stand-alone Power sources

Temperature & Humidity Control


Bluetooth® Testing Equipment
Allion is equipped with testing equipment essential for Bluetooth qualification services, including RF testing, protocol testing and profile testing. Especially in RF testing field, we have exclusively developed the combined test systems- ABRTS and ABTS test system for accurate and efficient Bluetooth qualification testing, enables to accelerate the qualification testing for your products.
ABRTS- Allion Bluetooth® RF Test System
*** An official accredited test system for Bluetooth tech
Certified by the Bluetooth SIG, ABRTS can test and validate analog/vector signals, digital modulated signals, and RF signals. ABRTS is a standalone system that works in isolation from outside network connections, which prevents any disclosure or abuse of confidential client information. 
ABTS- Allion Bluetooth® Test Suite
With our customized ABTS equipment, Allion test engineers can develop and track customized test configurations to meet specific customer requirements.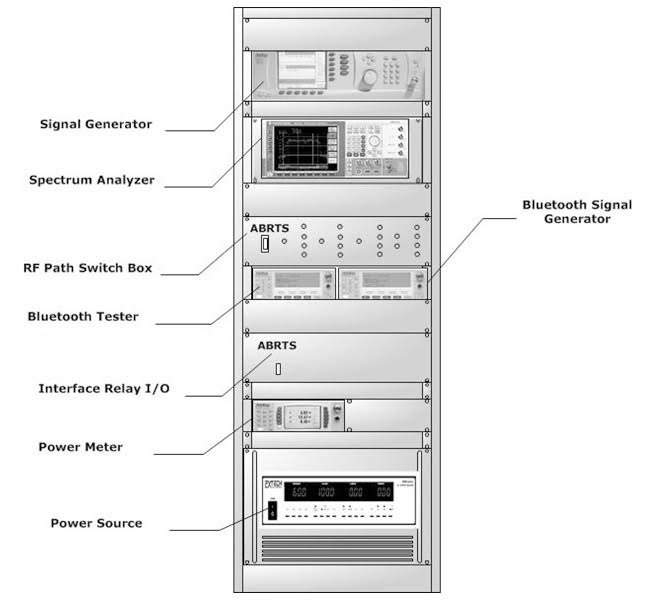 Other Bluetooth® Testing Services
Ecosystem Validation Testing
With over 10 thousand devices, our global IoT device center aims to help your Bluetooth products interoperates with most popular products in your target markets. (Click our Interoperability Test Center to understand more.)


About the Bluetooth SIG
The Bluetooth SIG is a global non-profit organization of over 34,000 firms serving to promote and expand Bluetooth technology in the broad spectrum of connected devices. The Bluetooth SIG also creates technical specifications through qualification programs to ensure product quality and bring better user experiences all around the world. 
If you have any questions or technical issues regarding Allion's Bluetooth testing services or testing equipment, please fill out this contact form or contact us at service@allion.com.